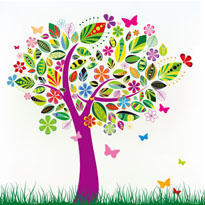 TREASURED TIDBITS began from a little thought in the back of my very busy head.
Friends and family were always asking where I got this deal or that idea from and trying to email, share or show them (sometimes the same ideas at different times) became overwhelming thus the idea of a blog was born.  Since I cannot work outside the home due to health issues in both my children and myself, a blog seemed like the perfect solution.  I could do all the things I love and be home with my children, work when I could and help others in their journey.
Thus this blog was born.  KUDOS go out to Ms. Dena King for coming up with the name- I couldn't seem to settle on one myself and it was PERFECT since it matches my crafting business HANDMADE TREASURES.
 UPDATE: July 2016
In the 2+ years since it's conception Treasured has evolved to include money saving, work from home and organizing tips more than a crafty, home decor blog.
This has been for several reasons including the declining health of myself and my family and my inability to devote the time regular posting needed.  That is changing and we have BIG plans for 2017.  Plans that can only be implemented with the help our our new staff and the devotion of my family.
OUR STAFF
| | |
| --- | --- |
| | Hi!  I'm Tina.  I am the author, creator of 99.9% of our posts, projects and harebrained ideas.  I enjoy being the WAHM of 3 teenagers, 5 cats and 1 dog and the wife to a wonderful husband.  I spend my time blogging, couponing, finding creative ways to save and earn money, crafting, painting, organizing, and redecorating, while still enjoying life and home with a physical challenge, and spreading awareness for our often misdiagnosed illnesses.  To read more about our personal stories you can check out the personal stories I share on our chronic illness blog The Zippy Zebra. |
| | Rebecca, she is my oldest daughter and right hand woman.  Treasured Tidbits would not be where it is the last few months without her help.  She is our virtual assistant.  She helps with social media, tells me when my hair brained ideas are too crazy, researches and thankfully does an excellent job of proofreading our posts.  She is 19, lives at home and battles not one but two chronic illnesses each day.  She shares a bit about her struggles here.  She enjoys reading, crafting, watching TV and visiting with friends. |
| | Josh is my wonderful hubby and our all around tech guy.  Considering I had trouble simply using Facebook when I first started this blog, he has been a God send.  He does everything from listening to my ideas at ground level, to making them reality in icons and images.  Keeps the link ups going and creates our pins.  All while working full-time to support our family. |
Save
Save
Save
Save
Save
Save
Save
Save
Save
Save