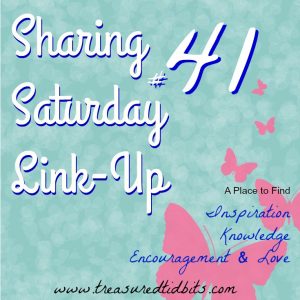 Welcome to SHARING SATURDAY #41!
It has been an amazingly, busy week here at Treasured Tidbits.  Between the launch of our 30 Day Organizing Challenge and the daily posts and emails to match, I have been blogging 6 to 8 hours a day, but I am loving it.  The fact I can help others get organized, slowly but surely, without spending a ton of money, is so heartwarming.  When a new follower messages me with a success or a struggle I celebrate that we can work out a way for them to organize their space AND not break their budget or determination.  Want to see what I am referring to?  Click here for more details and sign up for our 30 Day Organizing Challenge.  You can join at ANY time, and begin on DAY 1.
I also experienced a serious physical setback and cannot do many of the physical things I had planned, but that means I can focus on the blog more (when I am not napping).  This week, I will be reaching out to give my fav work at home women an opportunity to be featured next year in our Featured Friday WAHM series, where we will feature work at home women and their businesses.  Watch for more information as I open the series to the public, to sign up.  If you want to get on the list now, send an email to [email protected]
We will also be launching a giveaway this week.  Details and photos to come, so be certain to start checking in each day for more information.
---
Before we begin, here are just a few guidelines for those of you linking up for the very first time or just returning.
Sharing Saturday is a place where you can come to share and read everyday stories from everyday people and learn everything from new recipes to life tips and lots of things in between.
We want to create a family oriented, faith based spot for readers and bloggers alike to find tips, tricks and inspiration for anything pertaining to the home, business or family.
For more great ideas, recipes, money saving tips and tricks follow us on Pinterest, Facebook, Instagram and sign up to receive weekly emails.
I want to make a point to say thank you for stopping by Sharing Saturday Link-Up #41, linking up and supporting other bloggers.
Loading InLinkz ...
Save
Save
Save
Save