It's been another crazy week here at Treasured Tidbits.   I still haven't regained proper use of my hips, back and legs BUT I have been able to keep up with our 30 Day Organizing Challenge and work towards putting together our anticipated 2017 blog year!!!   Not being able to walk doesn't mean I can't tackle the digital work that needs done.    How do handle being down and out in your life?  Do you just lay around and pout about your issues or find something productive to do until you are healed?   I will admit I had times I couldn't focus past the physical pain BUT I tried my best to overcome those moments and keep planning, typing, pinning and more.It helped to have a GOAL.   A goal to finish the organizing challenge series AND to have an AMAZING 2017 blog year.
Want to join us and be part of our AMAZING 2017?   Begin linking up regularly here on TT Sharing Saturday and be chosen to be one of our Featured Friday Work at Home Mom's where we shar YOUR story, YOUR site and YOUR successes with our readers and fellow WAHM's.  Details to come.   Remember start linking up NOW to be on the top of the invite list.
Now, LET"S SHARE OUR BUSINESSES!!!
---
Before we begin, here are just a few guidelines for those of you linking up for the very first time or just returning.
Sharing Saturday is a place where you can come to share and read everyday stories from everyday people and learn everything from new recipes to life tips and lots of things in between.
We want to create a family oriented, faith based spot for readers and bloggers alike to find tips, tricks and inspiration for anything pertaining to the home, business or family.
For more great ideas, recipes, money saving tips and tricks follow us on Pinterest, Facebook, Instagram and sign up to receive weekly emails.
I want to make a point to say thank you for stopping by Sharing Saturday Link-Up #52, linking up and supporting other bloggers.
---
Loading InLinkz ...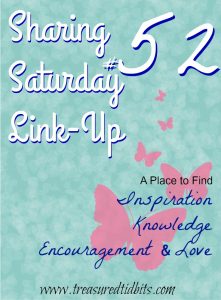 Save