25 Ways We Supplemented Our Income in 2016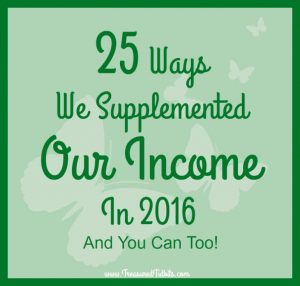 After reviewing our 2016 financial challenges and our 2017 goals, I realized that the only way we came out ahead in 2016 was by saving every way we could and supplementing our income by earning extra money, points and gift cards on the side.  These projects, totaled over $3,000 total and inspired me to share a comprehensive list of how we supplemented our income in 2016, and maybe encourage you to supplement your income in 2017.
To make it simple, I broke it into categories:  cold hard cash, gift cards and points/programs for redemption.

Babysitting:  We babysit 3 1/2 days a week for 3-8 hours a day.

Responding to Company Lawsuits:  Which required a response to be included for both a previous job, internet service and phone company.  These only took a few minutes to respond to and were worth every second.
Rummage Sales:  We held two rummage sales last year and netted over $1,000 among all of us.
Etsy:  We reopened our shop in mid-December and will be pursuing it, as a family, in 2017.

Direct Sales with my Clever Container Company:  I love their product, organizing and the paycheck is great too.  The best part is I can sell when I want to, and take time off when I don't.

Consignment Sales:  We take our items to a variety of out of town consignment shops, when heading that way, and receive either cash or store credit for our clothing and household items.

Book Shop Credit:  This isn't really cash because it is always an in store credit, but when your daughter is a book nut, it is definitely helpful to the wallet.

Blog Income:  This isn't really profit because the expenses exceeded in income, but we did generate some income and made no effort to do so.  That's changing in 2017.

Ibotta:  Some people would refer to Ibotta as a savings app, but I refer to it as earning because you have to make the decision to spend the money and buy the product, before you receive the credit.  It is an easy, no brainer app to use though because it stacks with Checkout 51, Savings Star, Coupons and Gift Cards.  Right now, you can earn $10 and I can earn a $5 bonus if you sign up using this code.

Checkout 51:  This program works very similar to Ibotta and can be combined in the same way, for amazing savings and earning.  I make my shopping list, go shopping and then check these sites, so I don't end up buying something I don't actually need.

Savings Star:  Another stackable program, BUT you need to load the items you want BEFORE you go shopping, in order to receive the credit.


Receipt Hog:  This is one of my favorite apps.  I take a pic of my everyday receipts and receive "coins" that can be redeemed for Amazon Gift Cards. 

Coke Rewards:  Honestly, we do not drink a lot of Coke Products, but we do redeem the codes from the lids of the drinks we consume during parties, as well as those my mother sends for recycling.  This year, Coke offered several freebies that didn't even require points to redeem, including a free magazine subscription, $20 in Shutterfly points, a free calendar and more.  The points can be used for free Shutterfly prints, starting as low as 25 prints for only 3 points or 1 cap.  I was able to cash 70 points in (during a limited time) for a $10 Amazon gift card.  I bought 2 and emptied my account.  It is definitely worth the minute it takes to log in and add the code.

SwagBucks:  We have used this program off and on for years and earn at least $50 in Amazon Gift Cards every year, without any real effort, just our normal searching and answering a random question each day.  You can earn so much more by watching videos, taking surveys and tons more.  Use this link and we will both receive a bonus when you reach your first 300 Swagbucks.

Hotel Points:  Redeemed for Amazon Gift Cards since we will not be traveling any time soon.
Global Test Market:  Earn points to redeem for gift cards in just minutes a day, by taking surveys and answering questions.

Inbox Dollars:  Another site you can use to Earn points to redeem for gift cards in just minutes a day, by taking surveys and answering questions.

Vindale Rewards:  More surveys

My Survey:  More Surveys


Kmart:  I love earning points on merchandise I need anyway, and then the bonus points I earn by going to ShopYourWayRewards.com and uploading coupons to use on my total purchase and select merchandise purchases.  We bought over $100 in free items last year.

Walgreens:  We take full advantage of Walgreen's Balance Reward program while shopping, purchasing prescriptions and even using our Fitbit (yes, they will reward you points for that).  This year alone, we have redeemed over $200 in points for free merchandise.

Target Gift Cards:  We make a point to check the ad and text program weekly, to make the purchases we would normally make, and earn gift cards.  I love this option because it allows me to use their store coupons, manufacturer coupons, their sale prices, our red card AND still receive additional gift cards, which I keep and use when funds are low or we have an unexpected expense.

Resale Shop Bonus Punches:  Two of the consignment shops we frequent offer punch cards.  In 2017, we received an additional $75 in free merchandise, which we used to purchase clothes and shoes.  The best part is the purchases we made to earn the credits are often the cash from items we traded in.

Walmart Savings Catcher:  This program is so simple to use and doesn't even require a smart phone or device; you simply type in the TC# off your Walmart receipt, and they will search local ads for a lower price.  If they find one, they will put the credit on your account, and then you print an E gift card and use it for a future purchase.  Even though we shop ads and compare prices; we have still received over $50.00 in Walmart E-Gift Cards this year.

I love these reward programs because I can use the points I earn for products I already buy, and then use those points to earn coupons, free merchandise, magazines, clothing, books, photos, gift cards, etc….
I hope you discovered more than a few ways to supplement your income or save a few dollars today.  Please share any programs, apps or businesses in the comments.  Direct links are welcome.  Bloggers, your post links are welcome as well.  I can't wait to hear from you today!
Don't forget to pin this post to refer to later and inspire your friends as well.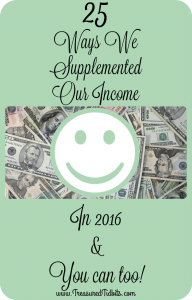 Your friend in this journey,

---
This page contains affiliate links, meaning we earn a commission if you use those links at no cost to you.

We recommend only products, stores and programs we have experience with and trust.
To see more posts like this follow us on Facebook, Instagram, Pinterest and sign up to receive weekly emails- where we share upcoming deals, printables and more.
Save
Save
Save
Save
Save
Save
Save