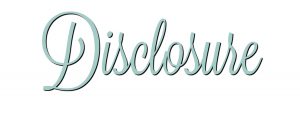 Treasured Tidbits is an everyday blog run by a stay at home mom meant to encourage others to live wisely while enjoying and celebrating their family and home.
But running a blog cost money from the very beginning.  We must pay for hosting, domain names, giveaways and project supplies as well as cameras, lighting etc… to provide good photos.
I did not intend to monetize this blog when it first began but the cost of medical bills, blogging fees and the need to help supplement our income has encouraged me to take the plunge and add some simple (non-invasive links to cover the costs (and maybe pay for a medical bill or two.)
We are able to offset some of those costs through "affiliate links".  These are links provided directly to a product or website that IF you choose to click on AND order from we receive a very small percentage of the sale.
It also means you will find an advertising banner along the top and a few ads (maybe) along the side and within our post.  We may also receive a small percentage if you click and follow through on these.
This does not in ANY way affect your cost or information.
I will not share links, promote products or give information I am not completely comfortable with.
If at any time you have questions pertaining to our "affiliate links" please feel free to ask.
You can contact us at tina@treasuredtidbits.com.
Want to know how you can help us grow as a business?   Read this amazing post :  How to Support Your Favorite Blogger For Free.
Amazon Associates Disclaimer
TreasuredTidbits.com is a participant in the Amazon Services LLC Associates Program, an affiliate advertising program designed to provide a means for sites to earn advertising fees by advertising and linking to Amazon.com.
Save