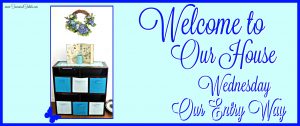 I am excited to share the first post in our "Welcome to Our House Series", for the next few months we want to share how we prepped and staged our home before placing it on the market.  We are starting with the first thing visitors will see…the entry.  Why not come on in and check it out?  Make sure to share what you think after you have had the full tour.  We love encouragement, tips and even additional ideas.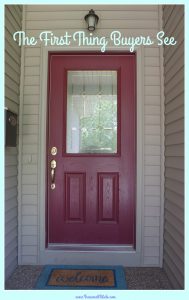 I must admit, prepping the entryway was one of the hardest things for me to do, not because it was dirty or messy, not because it was physically challenging, but because I knew it was the first thing buyers would see and I am obsessed with making our house "picture perfect", just ask my little family.  I want buyers to be wowed from the moment they open the door.  Since you can only do so much with blank walls and wood floors, I knew we needed to added some pizzazz without overwhelming the eyes or breaking the bank.  We also wanted to choose a color scheme we could carry throughout the upstairs, making it feel cohesive and inviting without breaking the bank.
How We Prepped the Entry Area Before Listing Our Home
 We cleaned the front door.  Even though it is technically outside, it is still the very first thing buyers see and touch.
Hubby replaced the front door handle.  This is a super exciting event because it has been sticking for YEARS!  It took just a few minutes and cost around $50, but it was worth every penny.  It looks great, works beautifully and won't detour buyers.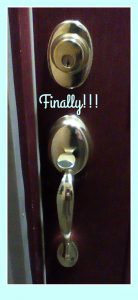 Confession:  This is where I share that my biggest complaint with this house, besides the list I share here, is all the gold accents.  Everywhere.  I have never been a fan of gold, and the entire house is gold from the front door handle to all the light fixtures ,but if we are moving it is better to replace it with a matching handle, than to start trying to please my picky little self now.
I bought a new welcome mat.  I will not tell you how long this decision took.  Let's just say it got down to the last minute, and I had to choose something.  The rug we had was not warm and inviting at all.  This one introduces the new color scheme and matches the wicker set around the corner.
We moved this shoe rack to the entry closet.  It keeps our shoes accessible, but allows the entry to feel larger and less cluttered.  This shoe rack has been a true blessing since I injured my back and my hip won't stay in place.  It doesn't require me to bend far to reach anything.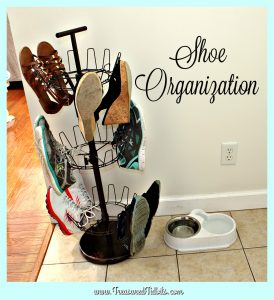 We removed the coat hooks we had used for the last 5 years.  THAT took some getting used to.  Everyone was so accustomed to hanging bags, leashes, jackets and more right inside the door for convenience, that we would actually start to do it and watch things fall to the floor, in horror, instead.
We washed all the walls and baseboards with dawn dish soap and magic erasers.

We hired a painter to paint the entry, hall, kitchen, dining and living room walls and ceilings.  Even though our house is only 12 years old, we had some serious bleed through happening.  It would appear that the original painters didn't prime any of the walls because just a year after moving in, we began to see darkening where all the studs and crossbeams were located, plus the circles where each and every screw was used to attach the drywall.  We made sure to solve the problem permanently, by have the main room walls and ceiling primed and painted.  No reason to do it halfway.  Besides, as a perfectionist I wouldn't have been able to live with myself.
My son and I touched up the dings and knicks on the hallway baseboards and trim.  It is far from perfect, but it isn't as noticeable either.
We removed and scrubbed the light fixtures, light switches, return air vent and thermostat.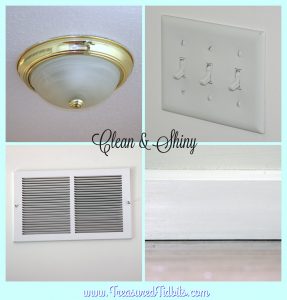 We also replaced burnt out bulbs and made sure they matched.  Yeah, after looking we discovered that our rooms were a hodge podge of bulbs.  Some had a blue tint, others yellow and others white.  I personally like things to match, and made the decision to spend the cash to make them match before we took pics for the realtor's website.
We even prepped and cleaned the hall closet so that it would appear larger, smell better and look organized.  Yes, I said "smelled better".  In case you have never noticed, any closet or space that isn't open and aired regularly begins to develop an odor.  Since this closet stores our outdoor jackets, broom/dust mop and Bissell Steam and Sweep it can start to develop a slight smell.  Who wants to open the closet of a perspective house and be hit with strange odors?  Not me.  We wiped it down and organized the closet items using the methods found here.  Emptied, reorganized and labeled the shelves, then scrubbed the door inside and out.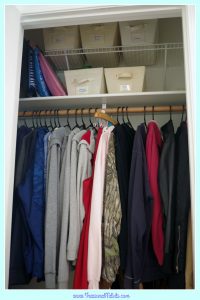 Plus, we created this amazing space.  Doesn't it look great?  Check back in next Wednesday to learn how we did it for less than $30 and minimal time, or be sure to sign up for our weekly email to stay up-to-date, participate in giveaways and never miss a post.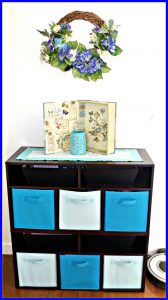 ---
How We Prep The Entry for Each Showing
Each time we share how we prepped a space for the original listing, I will also share how we prep the same space each time the realtor calls for a showing.  If you want to hear how our first showing went…read here, then return when you are finished laughing or cringing.  It was definitely a learning experience, to say the least.
We remove the cat water bowl.  For every showing we actually remove all five or six cats, the outside dog and all of their junk paraphernalia.  If you didn't take the time to read about our first showing you might want to do so now.  It is a realistic look at what catching, corralling and traveling with 5 cats and a dog really feels like.  The sixth cat is a  neighborhood cat, so we just make sure he is prowling the neighborhood and not begging the potential buyers to pet him.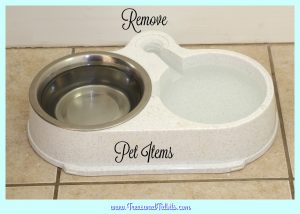 We wipe down any fingerprints or dust accumulation.
We straighten and organize the closet floor.  Making sure to remove any hairballs that have slipped under the door or fallen off the dust mop or broom.
It's ridiculous!  I mean, you would think they would learn, but they just keep coming back.
We lint roll the baskets and table runner.  The cats no longer scratch the baskets, but they do enjoy rubbing against them and hiding inside.
We dust the cube unit and Robbie the Roomba.
We stage the cubes, making sure the top display looks good and the cubes are symmetrically aligned.
We sweep and spot mop any yucky areas using our Bissell Steam and Sweep.

We flip on the lights and walk away, knowing it looks amazing.
---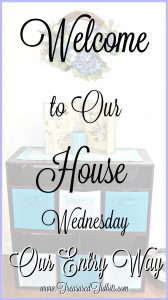 Disclaimer:  Some of above links are affiliate links and may result in a small compensation from Amazon if you click on them, at absolutely no cost or effect to you.  To learn more, visit our disclosure policy here.
What do you think?
Does this space make you feel welcome and want to see more, or does it make you want to turn around and run?
Pleas share this post with your friends, pin it for later and share your thoughts below.
Remember you can follow us on Pinterest, Instagram and Facebook to discover additional deals, links, websites and receive encouragement for everyday.
Until next time,


Save
Save
Save
Save
Save
Save
Save
Save
Save
Save
Save
Save
Save
Save
Save