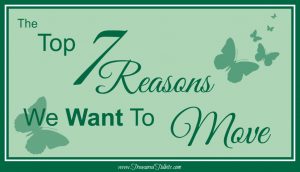 Since making the decision to list our home and look for a new one, I have been deluged with the questions, the main one being
Why?
Why do you want to move?
What is wrong with your house?  It's new.  It's beautiful.  It's maintained.  Etc, Etc, Etc.
They are right.  My home is gorgeous.  It's new and I already live here, but it has begun to present me with some challenges that would be costly to change.  Because so many have asked this exact question, I have decided that today, I want to share those reasons.
The Top 7 Reasons We Want To Move
---
 We pay almost $4,000 in taxes to live on the corner near the local high school, which none of my children even attend.
 It takes my husband 45 minutes to travel to and from his job each day.  That comes to at least 7.5 hours each week.
 All of our family lives a minimum of 45 minutes away, in all directions.
 I struggle to both enter and exit our current home, despite the fact we have only three steps.
 The doors are too narrow for the adult size wheelchair, so I must use my daughter's child size chair to move around on major pain days.  I cannot fit comfortably in the child size chair on the days I am swollen, so my productivity and self-esteem becomes extremely low.
Our current home is 2443 sq ft, and my daughters and I can only access a little over half of it.  Our hard to access, beautifully finished basement, makes up over 1,000 square feet of the footage.  Stairs are not only my nemesis, but my daughter's as well.   I quite literally, crawl up them and the slide down them.  While it is entertaining to see, it is also quite painful.  Our stairs are incompatible for a stairlift, not that I am keen on riding on of those things anyway.
We don't not have a pantry, making it difficult to do bulk food shopping.  This might not be so frustrating if shopping wasn't so painful and hubby didn't have to do it for me each week, but as it is, we have to store excess items in our master closet, if we buy more than a box or two of something, and it's rather inconvenient.
These may not seem like important reasons to some, but with our growing medical bills, conditions and challenges, they are very important to us.  Next week, I will be sharing the features we are looking for in our new home, and maybe even an update on how that search is going.
In the meantime, remember to

Save
Save
Save
Save
Save
Save
Save