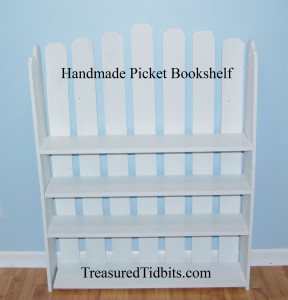 Adorable Handmade Picket Shelf How-To
We created this adorable little shelf from FREE pickets my brother-in-law had to remove from the fence he installed a few months ago.
The only cost was the wood for the shelves and the screws we used to build it.
---
(See other items created from the same pickets here.)
Supplies:
Pickets (We used 11 pickets- 7 across the back and 2 on each side.)
White paint (We used leftover paint from our previous house trim.)
2  8 x 10 pine boards cut into 30 inch lengths
Saw, Screws, Screwdriver
---
Sand pickets (unless you want a very primitive look).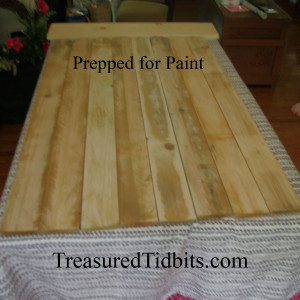 Remove dust, wipe clean.
Paint pickets and shelves.  Due to the heat and the fact my daughter and her friend were helping, we did this inside on my kitchen table by laying the pickets flat and applying one coat, allowing it to dry, applying a second coat, allowing it to dry, flipping and repeating, then doing the edges.

Once dry, attach individual shelves with screws.
My husband began with the bottom shelf first.
Note:  You will want to be certain that the pickets, as well as the shelves, are straight BEFORE you begin painting.  (Yes, this is me speaking from experience.)

We spaced these according to the items we were going to use them for- we will be adding another shelf at a later date.  You may wish to do the same.

Add side pickets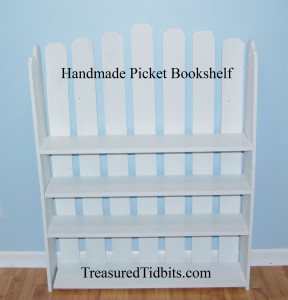 There you have it, an adorable picket shelf!
Want to see more great DIYs and low budget decor ideas?  Follow us on Facebook, Instagram, Pinterest and sign up to receive weekly emails.
---
This post is linked up at a variety of link ups.
For an extensive list of the link ups we enjoy click here.
It was featured at the Handyman/Crafty Woman- Wickedly Awesome Wednesday Link up #265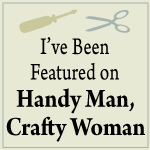 Save
Save
Save
Save
Save