Last week I shared The Top 7 Reasons We Want to Move, so this week I thought I would continue to keep it simple and share what we are looking for in our new home.
 Easy Entry– Ground level would be perfect for my wheelchair days, but those have been few and far between, so one with an easily adaptable ramp entrance will probably have to suffice.
Two bathrooms– minimum   Each needs to have room for my wheelchair, handicap accessories, and both a tub and stand up shower.  They need to be not only wide enough to use my chair when entering, but to turn around and move while inside.
3-4 Bedrooms on the main level, with room to use my wheelchair after furniture is in place.
A second family room, sun room or work space so my daughter can do her school work and I can focus on digital work and crafting, without distractions.
Large kitchen– The kitchen needs to be large enough for my wheelchair to maneuver around, open the oven or fridge and have room for a wheelchair height counter to be added.
An open floor plan for easy wheelchair turns and maneuvering.
Hardwood, laminate or tile floors throughout for easy cleaning, allergy reduction and of course, chair maneuverability.  We tried to visit so homes with carpet and it was actually painful to try and wheel myself around on it.  (For the average person in a chair, carpet might not present an issue, but with my Ehlers-Danlos Syndrome, my shoulders easily slip in and out, and rolling a wheelchair on q rough surface is a big trigger.)
Two Car Garage with space large enough to add a wheelchair accessible ramp and easy vehicle access.
Laundry on the main floor with wheelchair accessibility.
Level floors.  I never realized how many houses have small step downs, door lips or rough transitions.
Extra wide doorways for my wheelchair and walker.  This includes closets, bathrooms and pantries as well.
Flat access to the yard, patio or deck.
A large basement or additional area for hubby.
No pine trees near the house or our outside entertainment area.  Allergies.
Good sized pantry.
Bonus Requests
Lots of natural lighting
Clean, Clean, Clean
Accessible, easy to maintain landscaping
Island with power outlets
No gold accents
Newer Roof, Air Conditioning and Furnace
Screen Doors or the option to add them.
Trees offering shade near the porch, deck or patio.
Space between houses
Large driveway for guest parking.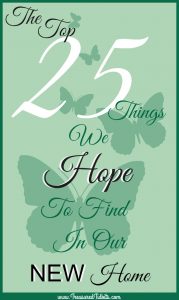 So far, I am sorry to say we have not been able to find everything on our list.  Not in the right neighborhood or price range anyway.  At times, it has been disappointing to say the least, but we do have a strong contender that can be easily adapted to suit our needs and I plan to keep you updated with the search as it continues, including the good, the bad and the embarrassing.
Until then,


Save
Save
Save
Save