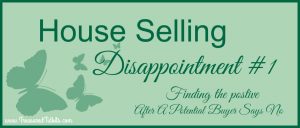 Yesterday I woke up feeling encouraged, positive, productive and expectant.
So positive, in fact, I began singing loudly while doing my morning chores, much to my children's dismay.
I also announced that I expected to hear from our realtor at some point, and that I expected it to be good news.  Not sure what kind of news, but definitely good news.
That "encouraged" feeling stayed strong through the entire day despite pain, injury, arguments, bill paying, budget analyzing and wading through a mountain of growing hospital and medical bills.
And then…the text came.  The text I had been anticipating all day.  The text we hoped to see every time my phone goes off.  The text we hoped was the offer on our house.  It WAS the realtor but it was NOT an offer.  Instead, it was him contacting us to let us know the most interested house hunters had decided our house wasn't for them.  It only took them three weeks and lots of questions for them to reach that decision, so there had to be SOMETHING they liked, right?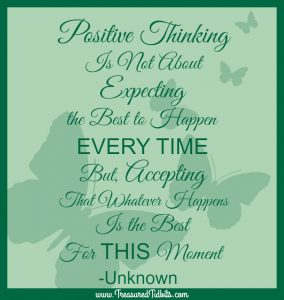 At first, I was let down.  We have been working really hard towards getting the house emptied and packed up as neatly and quickly as possible, so we could settle into our new home soon so the idea of no real prospective buyers was a little disheartening. But as I returned to practice curling my daughter's hair, the feeling of calm came back.  That "encouraged, positive feeling" I had been feeling all day, returned even stronger.  It would have been easy to become depressed, or at the very least kept the feeling of being let down, but to be honest, I actually felt unburdened.  It wasn't because I don't want to sell the house, but because I think God has someone better in mind.  Someone who will meet our asking needs, at the right time and with the right closing date.  Not when my impatient, get it done wants it to happen.  It reminded me that as I sat down and managed my upcoming calendar this past weekend, I realized the next two weeks are going to be insane with appointments, prom, concert carnivals, surgeries, garage sales, uniform fittings, blog plans and of course, our medical needs popping up everywhere.  I thought then, that if an offer came in on our house during that time, it might just push me over the edge so I should celebrate the extra time we have to purge, organize and be with our area friends and family.
What events happened in your life this week that might not be what you had planned but worked together for the greater good?
Soon we will share the requirements we have for our new home and how they might drive most realtors just a little crazy.
Until then,


Save
Save
Save