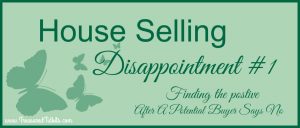 Yesterday I woke up feeling encouraged, positive, productive and expectant.
So positive, in fact, I began singing loudly while doing my morning chores, much to my children's dismay.
I also announced that I expected to hear from our realtor at some point, and that I expected it to be good news.  Not sure what kind of news, but definitely good news.
That "encouraged" feeling stayed strong through the entire day despite pain, injury, arguments, bill paying, budget analyzing and wading through a mountain of growing hospital and medical bills.
And then…the text came.  The text I had been anticipating all day.  The text we hoped to see every time my phone goes off.  The text we hoped was the offer on our house.  Read more »