Time Saving Tools Tuesday #2
Welcome to week #2 of Time Saving Tools Tuesday.
Today, I want to share the "tool" everyone in our house uses and loves.  Collapsible baskets.  Yep, small inexpensive, collapsible baskets.
We use them for everything and have them in almost every room of our home; for now, I want to share why we love them and why we own over 30 of these in various shapes and sizes.  Later this week, we will share the multiple ways we use them every single day.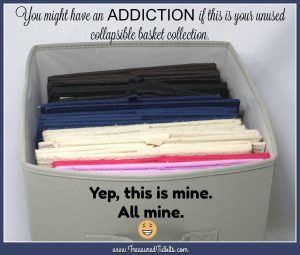 ---
10 Simple Reasons We Love Our Collapsible Baskets
1.)  They are light weight and so much easier to carry than solid baskets or boxes.
2.)  When not in use, they are easy to store and stack inside one another, unlike conventional baskets.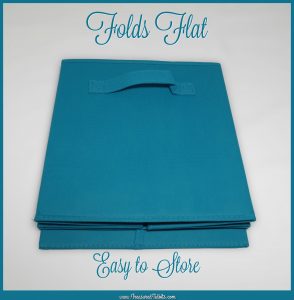 3.)  There is no weaving or open spaces for small items to slip out.
4.)  There are no sharp edges to cut sensitive skin.
5.)  They are easy to wipe clean and lint roll (when my kitties think they are for playing hide and seek).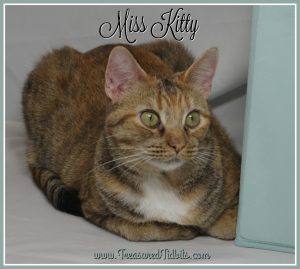 6.)  If you use them for clean laundry, the pile cannot spiral out of control before it must be emptied.
7.)  You can pop one open and throw all the random stuff you have out in it when you have unexpected guests, then carry it around and put everything away properly when they leave.  Yes, we have been known to do this.  Especially now that the house is on the market.
8.)  They can be bought to match any decor and come in a variety of sizes, for use in every area of your home.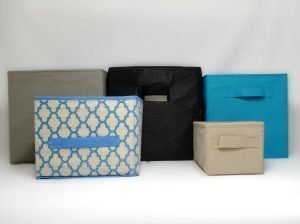 9.)  They can be found at almost any department store, from the Dollar Tree to IKEA and more.
10.)  You can fill them to have easy access to items while you are on bed rest or temporarily injured, and they tend to stay upright and not spill out all over the floor, plus they are deep enough to hide the mess.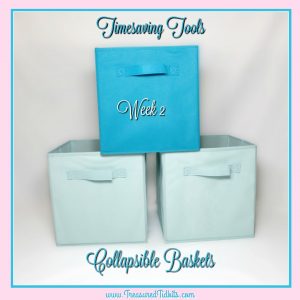 ---
Why do you love your collapsible baskets? 
Do you own any?  
We would love to read your answer in our comments.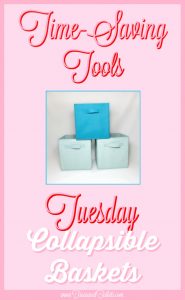 Disclaimer:  Some of above links are affiliate links and may result in a small compensation if you click on them, at absolutely no cost or effect to you.  To learn more, visit our disclosure policy here.
Can't get enough of Treasured Tidbits?  Follow us on Facebook, Pinterest and Instagram where we share more each day including other sites, deals and inspiration.
Save
Save
Save
Save
Save
Save
Save
Save