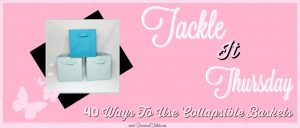 Just a few days ago I shared why our entire family enjoys collapsible storage baskets and a peek at how we use them in our entryway, to hide all.the.things.   Today, I want to share 40 ways we use those collapsible storage baskets.
For Pets
1.)  Controlling pet products and toys.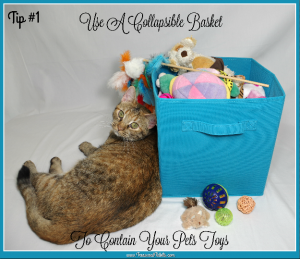 2.)  Hide and Seek with the cats.
For Travel
3.)  For random items you don't want falling over or to chase after the kids go to sleep.  (These are perfect because they fold flat when not in use.)
4.)  For groceries you want to stay upright, because Lord knows they don't in those recycle, plastic or even paper bags.
5.)  At the hotel, tent or cabinet to keep food, toys, clothes, etc, corralled but accessible.   (The wind can't blow things away as easily when they are contained, and once again they fold up for convenience when not in use.)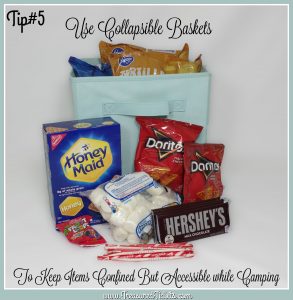 In the bathroom
6.)  Under the sink for washcloths, towels, toilet paper, personal items, etc…
7.)  Medicine chest to corral gauze, tape, ointment, etc…
8.)  On the counter for all those loose bottles you don't want to put away, but don't want falling over either.
In the Closet
9.)  Extra linens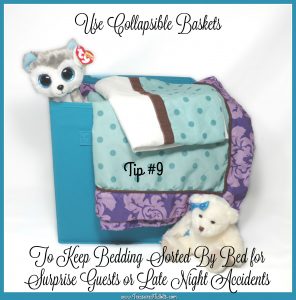 10.)  Shoes
11.)  Clothes
12.)  Toys by category
13.)  Craft supplies
14.)  In progress blankets, quilts, etc…
15.)  "Fix it" sewing projects
16.)  Extra Hats, Gloves, Scarves
17.)  Small games and pieces
18.)  Scrapbook supplies
19.)  Pictures to sort
20.)  Tablecloths
21.)  Napkins
22.)  Special snacks
23.)  Gifts
24.)  Party Supplies
In the Living Room
25.)  Hold remotes, spare drinks, pens, crossword books, etc…
26.)  Toy box for guests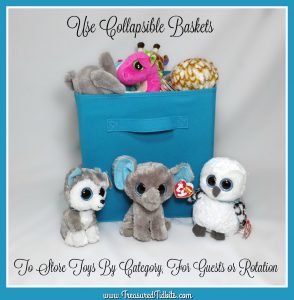 27.)  Library books
28.)  Blankets
29.)  Random stuff for a quick pick up and easy put up.   Just carry the basket through the house.
30.)  Current sewing, crocheting, knitting project and supplies
31.)  Toys that have been temporarily confiscated due to poor listening skills or behavior
In the Laundry Room
32.)  Odd Socks and Gloves awaiting their mates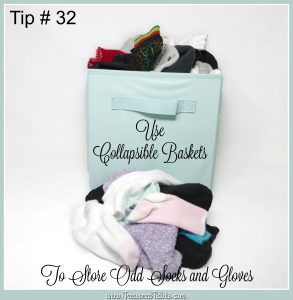 33.)  Rags we have cut from old clothes
34.)  Extra chemicals
35.)  Pet Care items
36.)  Small clean items, sorted by owner, to be put away after work/play/school
At Our House
37.)  A portable office, since I can't sit at the desk or table for very long.   It makes for a quick clean up too.  I simply toss my binders, papers, clipboard, pens and any other supplies inside, and have hubby carry it to whatever location I can work in that day.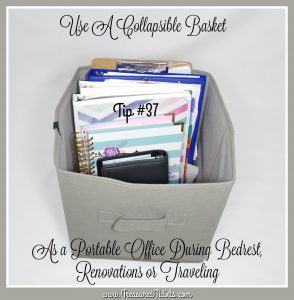 38.)  Items leaving the house like mail, coupons we are passing on, items people forgot or we want to share, etc…   When we run errands or guests stop by, we can just grab a basket and go.

39.)  We use them to take small items from the dryer, then carry it to the table to sit down and fold.
40.)  We fill them with small items we need to take up and down the stairs for different activities.
41.)  My favorite!!!   Sorting and organizing spaces.  I love the fact that collapsible storage baskets fold compactly when not in use, and I don't need to have several bags or boxes laying around until I start or finish a project.
---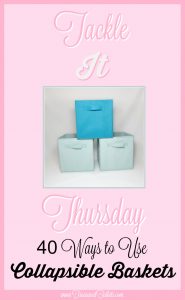 What do you use collapsible storage baskets for?
We would love to hear your response below.
---
Disclaimer:  Some of above links are affiliate links and may result in a small compensation if you click on them, at absolutely no cost or effect to you.  To learn more, visit our disclosure policy here.
Can't get enough of Treasured Tidbits?  Follow us on Facebook, Pinterest and Instagram where we share more each day including other sites, deals and inspiration.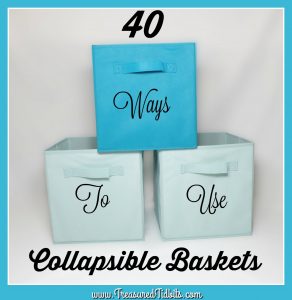 Save
Save
Save
Save
Save
Save
Save
Save