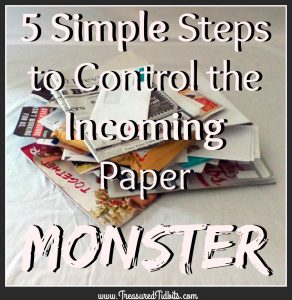 Welcome to Day #1 of the 30 Day Organizing Challenge! 
Today we are discovering ways to control the incoming paper monster.
Want to know what the 30 Day Organizing Challenge is?  Click here to discover the details and join us in this amazing life changing month.
---
Have you noticed that even with the digital age upon us we still have piles of paper landing on the counter, desk, side tables and who knows where else?  Many of those piles can be easily stopped with the quick easy steps we share today.
We personally use the following to control our "incoming paper"
Binders
Incoming mail holder
In process organizer
Filing cabinets
Shred bucket
Recycling basket
What does our incoming papers include?
Mail
Bills
Magazines
Flyers
Coupons
School forms
School reports
School notes
School papers
Appt cards and more
Receipts
Medical reports
---

Simple Ways to Control the Incoming Paper Monster
When I polled my friends and readers one of the number one answers to the question "What do you have cluttering your kitchen counters?" was papers, loose, random papers.  Let's start today by taking control of those papers.  The papers coming into your home each and every day.
#1.  You NEED a landing spot for ALL incoming papers so that when your children, roommate or even yourself grab the mail, return from shopping or receive papers, you have a DESIGNATED place to put it.
A wire basket hanging by the front door, a basket mounted to the wall or loose on the desk, a repurposed/recovered cereal box or even a napkin holder from the Dollar Store can ALL hold your incoming papers and keep them vertical off and organized.  You CAN make it work NO MATTER how small your space or limited your budget.  Here is an example of 5 methods we have used over the years.

#2.  Make sure EVERYONE knows where it is located and by what time you need any papers deposited there for you to handle efficiently.  That may be right after work, before bed or first thing in the morning when you have a few minutes alone.  This ensures you, personally, can open, assess and handle each piece EVERY.SINGLE.DAY. at your leisure.
This leads us to
#3.  Develop a method to make certain all papers are sorted, handled and/or disposed of as needed.
This is where you get to be creative and the importance of your own discipline and created system becomes even more prevalent.
Personally, I use this AMAZINGback of the door filing system, my organizing binders, bulletin board & upstairs filing cabinet to keep track of EVERYTHING.  This is extremely important at our house due to our medical bills and needs as well as multiple volunteering papers and side jobs I need to keep track of.  One missplaced paper can cost us enormous late penalties, missed classes, late ads or even lost checks (I am the treasurer for a local school group).  I have battled the paper monster for years until we discovered this wonderful system.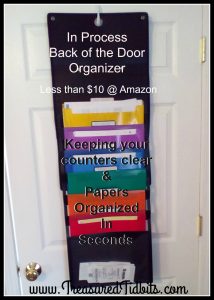 As you open or handle EACH AND EVERY item take action.  DO NOT put it back on the counter, in the designated holder or "in your bag".  Address it.
If it needs the formed filled out for school, DO so immediately; then put it in your child's backpack.  If it needs to be noted on the calendar, paper or digital, do so NOW.  Tomorrow isn't going to be any less chaotic, so do it NOW!
If it needs action taken during business hours, place it in a DESIGNATED take action location and add it to your calendar/to do list.
If it is a bill to be paid from an upcoming check, place it in the designated area and ADD it to your budget spreadsheet.
Cut coupons out immediately or place in a designated area to clip during your favorite podcast or TV show, but put it there.
If it simply needs to be filed, go file it OR place in a designated area "To be Filed" so that you can take that 10 minutes you are on hold next week to quickly file the stack you have accumulated.
If it is a flyer and has great deals, place a reminder on your calendar so you will be certain not to miss it.
If it is recycling, put it in the designated recycling bin or trash if you are unable to recycle.
Needs shredded?  Keep a designated can for shredding, unless you can shred immediately, then do so.
If you are handling it each and every day, plus adding it to your calendar, you should NOT be overwhelmed with paper clutter.  You should have no late payment fees and might even save a few bucks because you can FIND everything in seconds, including coupons and discount codes.
#4.  Follow through with your designated folders each week.  These include:
Take actions
Make calls
Bills to pay
Papers to file, etc…
To be scanned
This last step in controlling incoming paper is almost as important as the first one because being organized requires follow through to be truly useful.
#5.  As you are tackling today's incoming papers, grab 10 more from the loose, random piles and deal with them as well.  I promise it won't take as long as you think, and you will feel a huge weight lifted from your shoulders upon completion.
What are you waiting for?  Stop reading, grab an organizer and get started today!!!
Want to know what we keep in our binders?  Sign up to follow the 30 Day Organizational Challenge and find out the details in Email #2 of our 30 Day Organizing Challenge.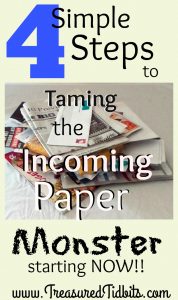 ---
For more great incoming paper organization ideas check out our Paper Organization Board on Pinterest.  It is OVERFLOWING with amazing free and simple ideas for controlling both incoming and past papers.
---
This post contains affiliate links at NO cost to you.  For details on what this means read our disclosure policy here.
This post is linked up at a variety of link ups.
For an extensive list of the link ups we enjoy and link to click here.
Save
Save
Save
Save
Save
Save
Save
Save
Save
Save
Save
Save
Save
Save
Save
Save
Save
Save
Save
Save
Save
Save