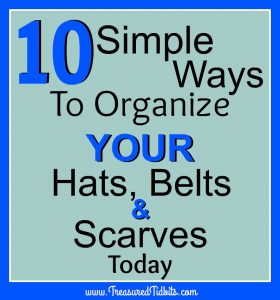 Do YOU struggle to find your accessories when you need them?
Then this post is for YOU!!!
I compiled 10 very simple tips and tools to organize YOUR accessories in YOUR home.  Many of them are multi purpose and can be adapted to fit your decor and lifestyle, perfectly!!!
10 Ways to Organize Your Accessories
 A Belt Hanger like this one from Clever Container.  It works well for hats and scarves too.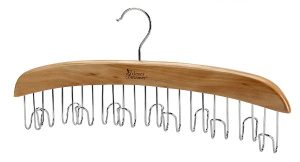 2.  A scarf hanger.  They can be found for $1, for plastics, to $10 or more, for heavier metal.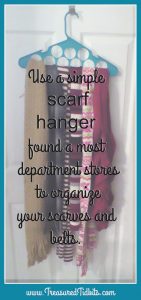 3.  Add shower curtain hooks to any hanger.  Hip To Save shares this photo and more scarf organizing tips here.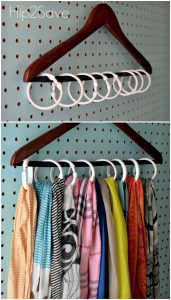 4.  Use an over the door cap organizer like this one from Amazon.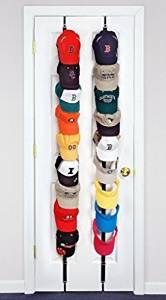 5.  Mount command hooks to the wall, a cabinet side or even a board.  Perfect for hat and belt organization.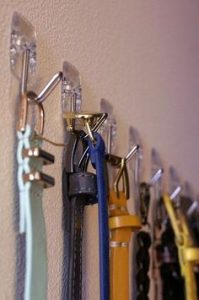 6.  Buy or create a belt ring.  Like this $7.00 one from Amazon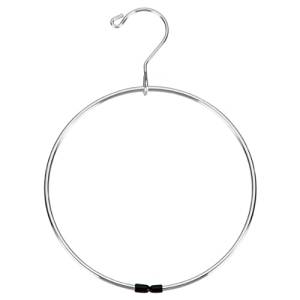 7.  Use an old crate that can be mounted to the wall or slid into a drawer.  This photo and more great ideas can be found at Rain On a Tin Roof.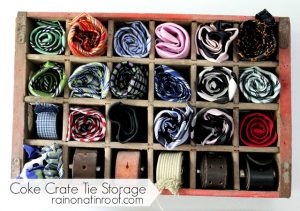 8.  Add pretty cups to a box or drawer to keep items separate and organized.  Ideas and photo from Orgjunkie.com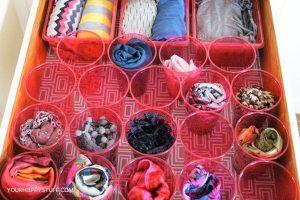 9.  Add hooks to a wooden hanger and create your own hanging organizer (paint it pretty to match your decor).  This photo and how-to can be found at Sadie Seasongoods.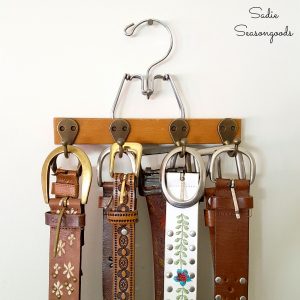 10.  Use a rod or over the door pocket organizer.  It can hold almost anything.  Your shoes, belts, scarves, gloves, sunglasses and even small handbags or wallets.  I began keeping my everyday belt in ours, and I LOVE the fact I know where it is, and I no longer have to rummage for it every time I need it.  Plus I can put it away in seconds.

Can't implement these ideas right now but want them for later, be sure to save them to YOUR Pinterest Board.
Want to share them with a friend?  Don't forget your social media options.
For more great inspiration, visit our Pinterest Boards: Belt Organization, Hat & Scarf Organization, Sunglass Organization, Closet Rod Organization, and more.
Need to organize more than a few items in your closet?   Join our
---
This post contains affiliate links at absolutely no cost to you, for more information read our disclosure policy here.
To see more posts like this, follow us on Facebook, Instagram, Pinterest and sign up to receive weekly emails- where we share upcoming deals, printables and more.
This post is linked up at a variety of link ups for complete list of the link ups we follow and connect with click here.
Save
Save
Save
Save
Save
Save
Save
Save
Save
Save
Save
Save
Save
Save
Save
Save
Save
Save
Save
Save
Save
Save
Save
Save