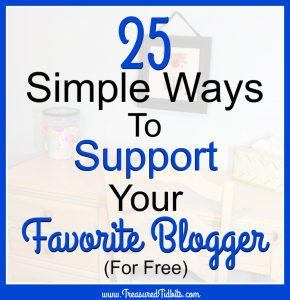 Recently, I have been sharing with my family & friends that we wanted to turn our hobby blogs into income generating family businesses.  It almost never fails that their first response involves the word, "How".
How can you make money from blogging?
How can I help you?
After trying to explain how it works a few thousand dozen times, I gave it some thought and decided a quick post might benefit others looking to encourage and support their favorite bloggers.  Here is a list of 25 ways you can help your favorite blogger for FREE.
---
25 Simple Ways You Can Support & Encourage Your Favorite Blogger (For Free)
On site
1.)  Open and read our articles.
Yes, it is that simple.  If you see a headline that grabs your attention or might interest you, open it and read it.
2.)  Follow the links that appear in our text.  These links generally appear in a highlighted color like this and will lead to another post or article with additional helpful info, or to a site that offers the product we are talking about.  By following the link, you will receive helpful information, and we will know what items and articles truly interest you.  IF the link leads to a online company or store, we may receive a small compensation for referring you there, but it cost you $0.
3.)  Share any post you find fun, helpful, encouraging or useful.  Like this one.  Almost every blogger uses "Share" buttons on their posts.

4.)  Search for additional posts and articles by using the blog search bar.


5.)  Sign up for our email list.  This ensures that not only will you stay up to date with what is happening on our blog, but you will be alerted to anything special you, as are reader, might enjoy.  It is also extremely encouraging to know that you WANT to receive our emails and enjoy reading our posts.
6.)  If you see a banner or side bar ad that interests you.  Click it.  It will cost you absolutely nothing, but may generate your favorite blogger, like me, a small bit of income.

Please only click the links that interest you.  Overuse of this option by one reader can appear as spam and cause the blogger to lose their account.
7.)  If you are going to order an item from a company your favorite blogger offers a banner or link to, use their link to go enter the site.  They may receive a small compensation at NO additional cost to you.
Example:  If you are ordering from Amazon.com, click one of our banner ads, order the items you were already ordering, and  a tiny percent will be credited to your favorite blogger.  Do you use Swagbucks or another rewards program?  Use our banner link, then click your Swagbucks link to benefit us both!!!  Never heard of Swagbucks?  Click here to discover more!
NOTE:  Not ALL links work this way.  Many times, bloggers will simply share great sites or products that we found useful to their family and homes, but it doesn't cost you, extra time or money to follow those links.
8.)  Use the links we offer you when signing up for rewards programs and online apps, etc…  Often we will receive a small bonus in points or credits with each new referral, and YOU will be rewarded too.  So if you are going to sign up anyway, be sure to come back and use OUR link, so we can both benefit.  Not sure what I mean?  Read this article for an example of our favorite apps and programs.  The items in color, are links that may benefit us both.
Ibotta:  $1.25

Saving Star:  $0.00

Receipt Hog:  607 Pts  $3.03 (For scanning all grocery & supply receipts.)

Checkout 51:  $.25

Kelloggs Family Rewards:  330 Pts (We use 850 Pts =$1.00 off coupon, OR Various amounts for Free Shutterfly items.  This month we cashed in for 3 $1.00 off coupons.)

Walmart Savings Catcher:  $3.52

Swagbucks:  3,888 pts= $38.88
9.)  Comment on our posts.  If you found our post interesting, encouraging, useful or even a little short on helping, leave a comment at the end and let us know.  You have no idea how encouraging it can be to log in at the end of a long day and read full comments or even quick statements like, "I loved this post!  The line about …..really spoke to me.",  "Your fall porch looks amazing, I may use _____________ idea." or "This a great list and you might even enjoy trying this idea, too."  We absolutely LOVE hearing from our readers, and reading even one encouraging comment, after spending 6-8 hours or more on a one page post, can be just the encouragement we need to start working on the next one.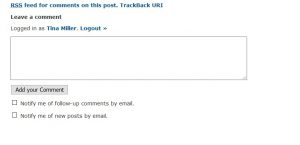 10.)  Visit our link ups.  Yep, not only will you find a variety of great articles, you will encourage us to continue hosting link ups, but you will encourage other bloggers to continue linking up.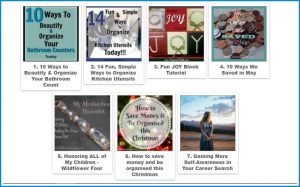 ---
Simple Ways to Encourage & Support Your Favorite Blogger
---
Facebook
11.)  Share.  If you find an article you enjoy and think someone else in your circle or group might too, share it.   Yes, you can share an article in more than one group.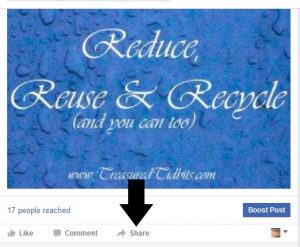 12.)  Save it to read later and then share.  If you are like me, and check in when things are hectic, you may not have time to read the article that caught your eye.  Instead of skipping it, use the following steps to "save" it to your Facebook page, and read it later when you are feeding the baby, picking up the kids or waiting on hubby to get home.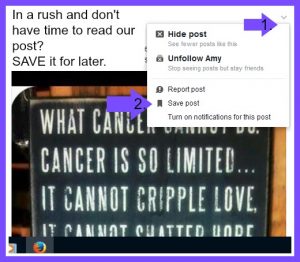 Click the arrow on the upper right hand of your facebook post, using the drop down box above click the SAVE icon.   Later when you have time visit the SAVED section on the left side of your Facebook screen.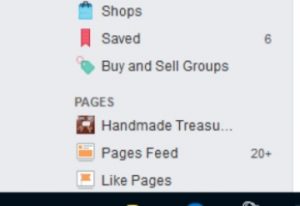 13.)  Like & Comment.  Just like commenting directly on the blog, commenting on Facebook can be super encouraging, AND it motivates Facebook to share our post with more people including you!
14.)  Tag a Friend.  Tag a friend who would enjoy reading or benefit from our article.
15.)  "Like" our page, and if you really love our site, add us to your "notifications" list.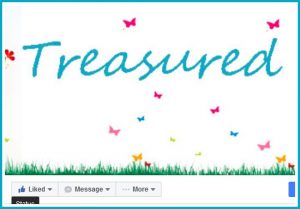 16.)  Invite a friend to "Like" the page.
---
On Pinterest
17.)  Follow us OR our the boards that apply to your life on Pinterest.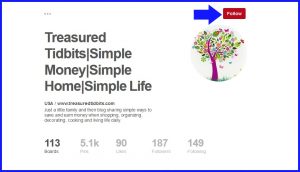 18.)  Comment on our pins.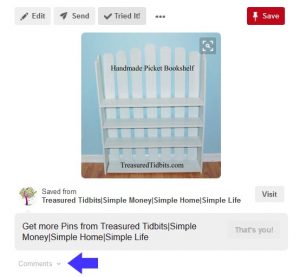 19.)  Let us know if you tried a pin and how it went, by using the new "tried it" button.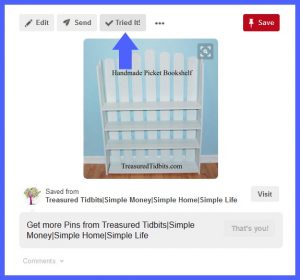 20.)  "Like" our pin if you enjoyed the pin or post, but it doesn't fit into your Pinterest board themes.
21.)  Of course, REPIN great content for later.
---
Twitter, Google+, Instagram and More…
22.)  Share our link, post, images, etc…
23.)  Comment on our link, post, images, etc…
24.)  Like our links, post, images, etc….
25.)  Tag and share with friends.
26.)  Follow us.
Believe it or not, these simple things can add up to great encouragement and rewards, for any blogger. 
Social media is PROVEN to promote posts, articles and images that receive likes, shares, comments and click throughs because they naturally want to share items people are genuinely interested in.  Yes, a blogger can pay to promote their business and site, but as a reader who benefits from their knowledge, posts and time, wouldn't it be great to help them share even more, without dipping into their wallets or yours?
---
Please share THIS post on your favorite social medias, so that others can encourage & support your favorite blogger as well.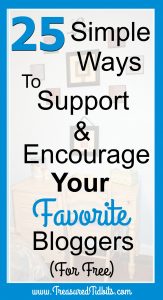 ---
If you have a minute, let me know what you think of this post in the comments below.
Was it helpful?  Did you learn something?  Are you encouraged to support YOUR favorite bloggers the next time you read a great article?  Were you bored?  Or do you feel empowered, knowing you can support and encourage your favorite bloggers for absolutely free?
Of course, there are additional ways to support your fave blogger, such as buying their products (including printables & ebooks), attending their online classes/webinars and more, but those do take a bit of monetary investment and may not be something you can do right now.  We as bloggers understand.
---
Treasured Tidbits is run by our little family and was created to help families of any size and any income live comfortably by sharing ways to save, earn a little extra and make do with what they have.  You can follow us on Facebook, Instagram, Pinterest and sign up to receive weekly emails for additional updates on how we save, how we earn and how we stretch every dollar in our everyday lives.
This post is linked up at a variety of linky parties.
Check out the extensive list here.
Save
Save
Save
Save
Save
Save
Save
Save
Save
Save
Save
Save
Save
Save
Save
Save
Save
Save
Save
Save