How We Earned An Extra $998.39 in the last 6 Weeks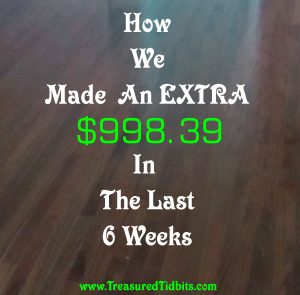 I must say I am blessed with a wonderful spouse who works full time to support our family and does a great job, but with our medical bills and medical conditions I am always looking for ways we can save or earn a little more despite our physical challenges.
Since my daughter and I are unable to work outside the home we have researched ways we could earn a little at home while in our pj's, watching TV or listening to our favorite audio book.  Once we found companies we liked we decided to share them with others.
Some companies do offer bonus referrals, and we share those links as well as ones that don't.  While we appreciate the opportunity to earn a little more from sharing with you, we aren't going to withhold sites or programs that don't offer bonuses.  We share them all if we have found them to be beneficial.
We have included the company, links and amount earned with each.  Disclosure: Some of the links below may earn us bonus points or credits.  Using our link will often benefit you as well.  For our full disclosure policy click here.
Please keep in mind these are the points we have earned during THIS 6 weeks only, not running totals.  We want to paint a clear picture of what is possible.  Also, keep in mind we do not spend more than 30 minutes to an hour a day working on these.
---
Online Programs
My Survey:  0 Pts
Toluna: 18,490Pts ($6.25+)
VIP Voice:  9,750Pts (Value varies based on reward choices)
Inbox Dollars:  $2.25
Harris Poll On-line:  330 Pts ($2.50)
Global Test Market:  107 Pts ($5.14)
Pet Perks:  13,880 Pts (We used a portion of these for $1.00 off coupon.)  (We recently inserted codes and received DOUBLE points.)
Coke Rewards:  18 Pts (We use these to earn free Shutterfly items.)
Ibotta:  $1.25
Saving Star:  $0.00
Receipt Hog:  607 Pts  $3.03 (For scanning all grocery & supply receipts.)
Checkout 51:  $.25
Kelloggs Family Rewards:  330 Pts (We use 850 Pts =$1.00 off coupon, OR Various amounts for Free Shutterfly items.  This month we cashed in for 3 $1.00 off coupons)
Walmart Savings Catcher:  $3.52
Swagbucks:  3,888 pts= $38.88
Tyndale Rewards:  $0.00
Total From Online Surveys, Check-Ins and Rebates:  $64.07
---
Cash From Consignment or Resale:  $68.64
Income (Less Monthly Expenses) From New Direct Sales Business Clever Container:  $126.68
Amazon Gift Card From Hotel Points: $100  (We earned free hotel nights, but due to health reasons we know we will not be traveling and felt an Amazon Gift Card would be more useful.)
Filled and redeemed a Rewards Card For $25 at one of Favorite Consignment Stores (Remarkable Resale):  $25.00
Bonus Items We Earned from our Clever Container Sales:  Valued at $129
Consignment credit at a Book Shop:  $60.00
Family Garage Sale:  Total Sales $400 (My share was $170, my kids $130 and other family members and friends $100.)
Target Gift Cards:  $25.00
(To be honest, this is just money back on groceries and supplies we would have purchased originally.  I save these cards for "extras," or when I am really penny pinching.  Many bloggers include these gift cards as money saved on the original shopping trip, but to me it isn't money saved because you spent that cash out of pocket and the gift cards can only be used for a later purchase.)
---
For only a few hours of work online, dropping off clothes/books, setting up a garage sale or on my Kindle Fire I would say we made some fairly good money.
Who couldn't use an extra $100+ a month?
Like to save money?  Check out our "Ways We Saved Posts".
---
"Ways We Earned " is slotted to become a monthly series to compliment "Ways We Saved", "Frugal Fridays" and "Thrifty Thursdays,– our new weekly posts.
To visit any site or link in questions, just click on the words in blue above and it will connect you to our site.
I pray that we were able to encourage you in some way today to earn a little more if you need it, and to share with a friend who might as well.
Thank you for stopping by and brightening our day.
---
Click here for the amazing list of linky parties we connect to.
Save