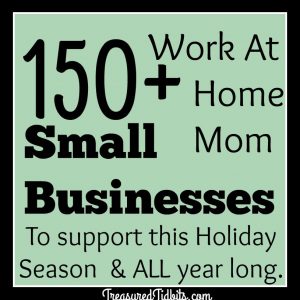 As I was compiling the list for my work at home mom (WAHM) opportunities and entrepreneurs for next year's  WAHM series I had the brilliant idea to began sharing and supporting those WAHM moms NOW.  Why wait?  I may not have the cash flow to buy something from everyone but I do have the ability to SHARE and promote all these uniquely talented  women I have met along with their small businesses.
Small businesses are a big part of life in America.   I believe over 50% of the families I know personally have some kind of side job they do just to keep food on the table, gas in the car and the basic bills paid.
So many small business are begun each year and simply fold the next, not because they didn't have amazing product or excellent customer service but because no one knew they were there.   No one took to the time to help support them or spread the word.  This post is my way of helping those small businesses grow and succeed.   They each work hard in their small businesses to support their families and pay the rent but rely on others to share the word of their "in home" small businesses.    Even small businesses with a store front struggle to get the word out because as a whole we just don't think to share about the amazing new store we found.    Last week I shared 25+ Ways You Can Support Your Favorite Blogger For Absolutely Free.   Those same concepts apply to small businesses with an online presence.
Of course, in addition to sharing this post and each of these small businesses an important part of supporting them is SHOPPING with them and what better time than Black Friday and Small Business Saturday when many of them are offering steep discounts, free shipping and more?   Already have your shopping done?   Send your parents, friends, sweetheart, etc… a shopping list including links to the the items you would love to have from these amazing small businesses.
Are you limited on time today?   Make a point to share, save, pin AND bookmark this post for when you have time to sit down, curl up and discover some amazing, new and unique products for yourself and your friends.   Small businesses should be shopped year round NOT just on small business Saturday.
How will you support the small businesses you are introduced to today?   Will you  share it, pin it, favorite it, make a Christmas list, tell your friend about it or order some amazing products to wow your friends and family with during this year's gift exchange and be the talk of the Christmas dinner?   Or will you ignore your chance to help a small business owner to grow and discover something new in your world?
Note:   Categories are loosely divided as many of these small businesses offer a wide selection of items.  I tried to place them in the largest category I felt applied.
150+ WAHM Small Businesses






HandMade Treasures-Unique hand painted ornaments and home decor personalized for free.
This Joyful Home Everything in Burlap your heart could desire and more!!!
7 Hickory Lane -Offers beautiful signs featuring quotes and phrases for any home.
Northern Notions-High quality, handcrafted linens for home and gift giving
Parchment & Paisley- Digital Downloads for Your Parties
Memory Bears By Tammy Jackman  She takes your clothing and turns it in to the most adorable memory bears with photos, embroidery and more.
MexFabricSupplies -Mexican Fabric By the Yard
Arrow & Ash Handcreated signs for your home and more
Avery Sews– Fabric Banners for Parties and Decorations
Diaper Makeovers-Unique Baby Shower Diaper Cakes, Gifts & Centerpieces
Dancing Dish & Decor- Repurposed Tableware and Home Decor
Artsy Pumpkin- Artful & Inspirational Home Decor and Gifts
Letters & Decor- Beautiful home decor, gifts and more.
Billy Dean Design–

Party and Event Decor Wreaths & Decorative Accessories

The Fox Company-

Carpentry and home decor items based in Wichita, Kansas

The Cottage Creative-

Handmade and vintage home decor, gifts and accessories.

Moose Jaw Ink

Find "Perfect for You" Decor

Ginny's Embroidery– They offer e

mbroidered kitchen/hand towels and home decor and Christmas items.

Millennial Housewife-

Stylish, modern, and often snarky wall art printables

Madeline Vy and Co.–  Statement Home Decor
Gathered & Sown-Unique Bible & Journal Accessories
Richie Roo Designs- Home Decor
Peg's Custom Creations- Florals, Home Decor, Holidays & Special Events

Homemade quilts with high quality fabric.  You can reach Angie @ (307) 747-3921.

Find Your Best Self- Handmade soy candles, skincare, jewelry and more.
Charmbooks-

Anniversary Journals, Pregnancy Journals, Baby Books & More.

Pink Lemonade Company-  Graphic and Web Design, Digital Apparel Printing & More
Customized Marketing-  Provides marketing, web and design services

EBAY
Thank you for reading this post and supporting me and other small businesses like me.   My intention is to add to this post and let it grow as I discover new small businesses with online presence.   If I missed sharing you in the main feed feel free to leave a comment and share YOUR online small business in the comments below.
NOTE:  If any of you small business owners would like to share your small business story you are welcome to fill our Featured Friday form here and be included in our mompreneur series launching in January of 2017.   This series being created to help promote small business ran by mom's AND show others that it CAN be done.   Want more information?   Just click here and be taken directly to the forms.

To see more posts like this follow us on Facebook, Instagram, Pinterest and sign up to receive weekly emails- where we share upcoming deals, printables and more.

This post is linked up at a variety of linky parties.

Check out the extensive list here.
Don't forget to pin this amazing list before you go!   You know you want to shop again later!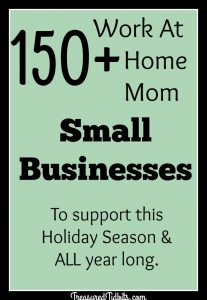 Save
Save
Save
Save
Save
Save
Save
Save
Save
Save
Save
Save
Save
Save
Save
Save
Save
Save
Save
Save
Save
Save
Save