15 Simple Ways to Organize Your Hair Accessories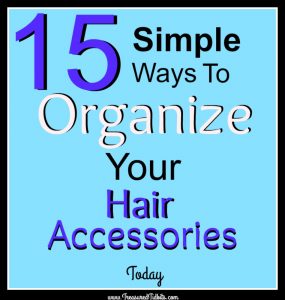 We have all been there.  It's 20 minutes before you need to walk out the door, and NO ONE can find a single hair tie, headband or matching hair accessory?  With three long haired ladies in our house, there has ALWAYS been an influx of hair accessories.
Beautiful accessories.  Broken accessories.  Missing accessories.  And even "someday" accessories.  Having so many accessories was not only overwhelming, it was unmanageable.  I am embarrassed to say, that for many, many years we did NOT have a reasonable storage solution for our accessories.  Hence the broken and missing part.  In my defense, we didn't have internet or a computer, let alone Pinterest, but at some point I said "Enough is Enough" and found pretty, creative ways to store our accessories.  You can find more about those here.
NOW, we have this amazing thing called Pinterest, where you can find oodles and oodles of DIY, zero budget hair accessory organizing ideas with a variety of designs and patterns.  I gathered 15 of my favorites here, today, in hopes of inspiring YOU to organize your hair accessories, so that you don't have the stress and tears we did over broken and missing hair accessories.
Headbands
1.  Transform an oatmeal can or hot chocolate container and use the inside to store loose items such combs, brushes, headwraps and more.  Find the complete tutorial HERE.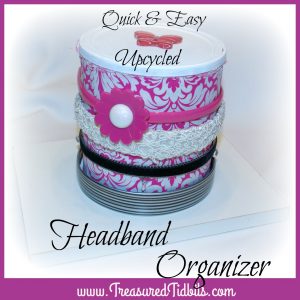 2.  Add hooks to the bottom of a picture frame or bulletin board.  This works great for cloth headbands and jewelry as well.  Find the complete step-by-step tutorial here.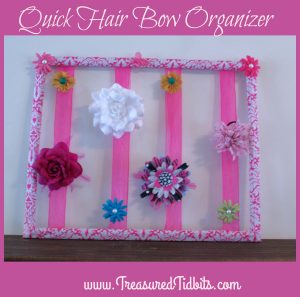 3.  Ribbon headband organizer.  Photo and amazing step-by-step tutorial by Laura @ LauraBray.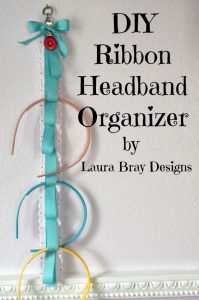 4.  Don't have enough counter space to have an organizer on the counter?  GO vertical with this idea.  Complete tutorial and detailed photos can be found at Baubles n' Babbles.  I am thinking of doing it with our hot chocolate container organizers from above.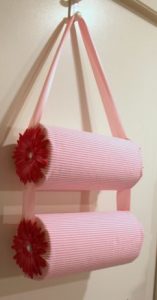 Barrettes/Hair Clips/Bows
5.  Add chicken wire or ribbon to an old frame.  This way YOU control the size, design and number of items you can keep.  A step-by-step tutorial can be found here.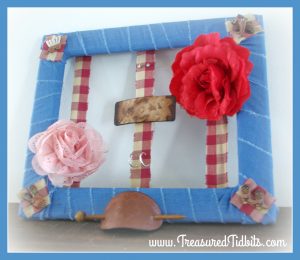 6.  Change up a lamp shade.  I absolutely LOVE this idea from Bethany at PinkandGlink.  Photo and tutorial can be found here.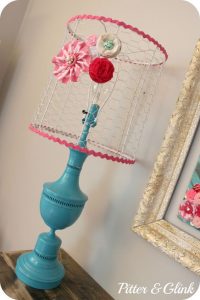 7.  Use a belt or ribbon.  It's quick, it's easy and it's FREE.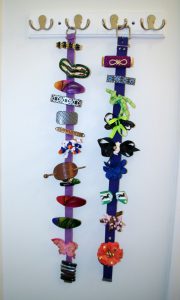 8.  Purchase small clear pocket organizer for less than $10.  They are often double sided and have a variety of pocket sizes.  BONUS:  It hangs in a closet, as well as on a door or wall.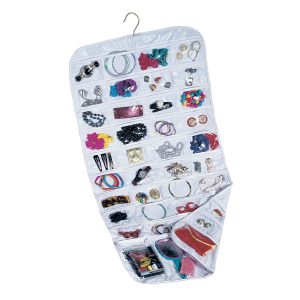 9.  Hanging cloth organizer with ribbon added.  You can even make it dual purposed and organize all your supplies in one place.  Amanda at Heartland Happy shares this photo and clear step-by-step tutorial here.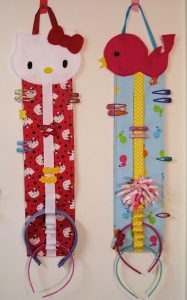 10.  Yarn hair.  This is perfect to do with your preschooler or school age children.  You can make the head and hair match each of them.  Photo and details can be found at Redtedart.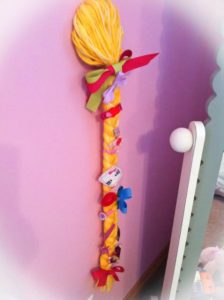 Pony Tail Holders & Bobby Pins

11.  Use mounted dowels to hold hair ties, pony tail holders and even bracelets.  Find the complete tutorial here.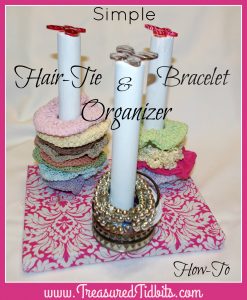 12.  Use empty spice bottles to hold things both inside and out.  Photo and details are available here from Sam at To Mom, Love Coffee.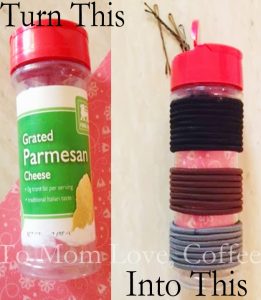 13.  Repurpose a Tic-Tac Container.  I love this photo and tutorial from Chelsea @ LovelyIndeed.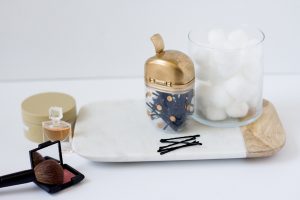 14.  Install a magnetic strip in your drawers, medicine chest, etc…  Attach your bobby pins and never hunt for them again.  Photo and more great tips can be found here at Barbie Bieber & Beyond.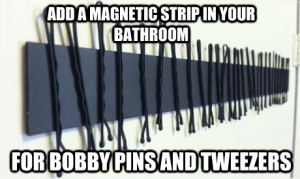 15.  Re-purpose any flip top container.  Perfect for traveling or the beach too.  Amy at DIYCandy shares this photo and great Washi tape make over tutorial here.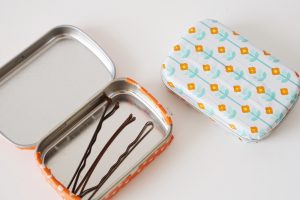 16.  Use a craft box.  You can take it from room to room and keep it all together.  Amy from the IdeaRoom shares this photo and more great ideas here.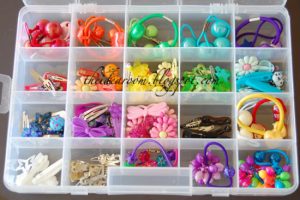 You can find more inspiration and additional ideas on our Hair Accessories Organization Board.
Do you need to organize more than your hair accessories?  Would you like some printables, motivation and friends to move you along and share ideas?  Join our 30 Day Organizing Challenge.  You can find the details here.
---
This post is linked up at a variety of link ups.
For an extensive list of the link ups we enjoy and link to click here.
This post contains affiliate links at not cost to you.  For details read our disclosure policy here.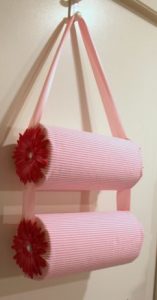 Save
Save
Save
Save
Save
Save
Save
Save
Save
Save
Save
Save
Save
Save
Save
Save
Save
Save
Save
Save
Save
Save
Save
Save
Save
Save