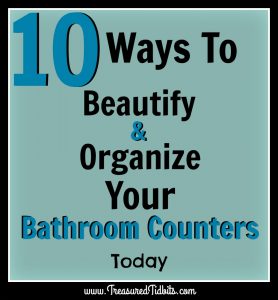 If you have been following our 30 Day Organizing Challenge you know today is the day we tackle the bathroom counter and sink.  You also know that we believe that organizing should be simple, inexpensive and work with YOUR home and YOUR needs.  Hopefully, one of these ideas will inspire you to begin organizing your space today.
10 Simple Ways to Organize & Beautify Your  Bathroom Counter
Transfer mouthwash and hand soap to clear or decorative bottles or jars.  They look much prettier and will often take up less space.  Clarissa offers a great tutorial for this mason jar makeover at creativegreenliving.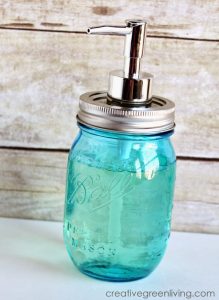 Photo via CreativeGreenLiving
2.  Use pretty jars to organize your toothbrushes, toothpaste, cotton balls and more.  Spray paint the lids or add Washi tape and labels for even more design.  Alexis from ChemistryCachet offers a step by step tutorial on how to remove original labels here.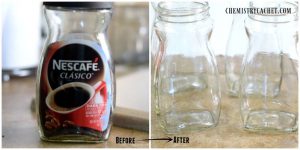 Photo via ChemistryCache
3.  Purchase or build a tiered tray to organize smaller items and the pretty bottles you just created and filled.  Heather at SouthernStateofMind shares a great tutorial on making your own here.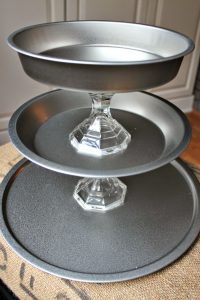 Photo via SoutherStateofMind
4.  Use wall mounted holders to lift items off the counter, but within easy reach.  You can find multiple images and posts here.
5.  Use a soap dish to hold loose jewelry or bar soap.
6.  Use a towel ring or towel stand to keep hand towels off the counter.  The designs are limitless.
7.  Add a narrow shelf or repurposed spice rack to bring items up and free up counter space.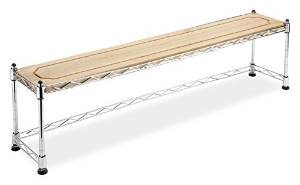 8.  Keep wash cloths rolled in a pretty basket or metal tin.
9.  Add a corner shelf like this one from Amazon.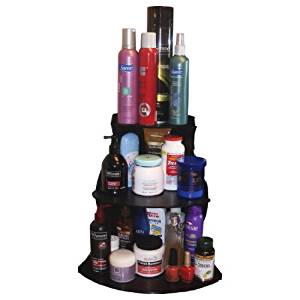 10.  Try a serving stand like this one from BlissfullyDomestic.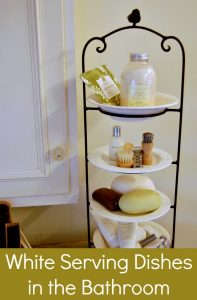 Photo via BlissfullyDomestic
---
Still have wayward items without a home?  Check out these simple, low budget organizing ideas:
Want even more?  Follow our Bathroom Organization Board on Pinterest.
This post is linked up at a variety of link ups.
For an extensive list of the link ups we enjoy and link to click here.
This post contains affiliate links at not cost to you.  For details read our disclosure policy here.
7.Save
Save
Save
Save
Save
Save
Save
Save
Save
Save
Save
Save
Save
Save
Save
Save