Under the Bathroom Sink
This can be the trickiest area in the bathroom to organize.  If you factor in the fact that guests like to snoop there, water can leak there, and no one wants to stand on their head looking for things.  Do they?  I know I don't, especially with my physical challenges.
Hopefully, this post will inspire you to empty your space, wipe it down and decide on a strategy to maximize your space, without damaging your wallet.  We will be sharing only 1o tools or hacks here, but you can find many more on our Pinterest board here, including my bathroom makeovers next spring, when I finish it.
10 Ways To Maximize Your Storage Space Under the Bathroom Sink
Use stacking baskets.  These are available so many sizes and colors that you can not only organize under your sink, you can make it beautiful and appealing, and for only $1 each at your local Dollar Tree or department store.  This photo and 1000's of other amazing ideas, tutorials and videos can be found here at Alejandra.tv.  She is AMAZING!  If you haven't ever visited her site, be sure to do so now, you will be inspired.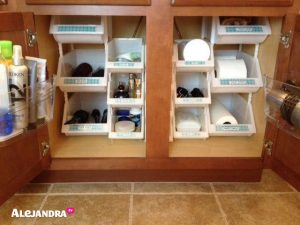 2.  Stacking shelves like these from Clever Container, can be found at any department store in a variety of colors for just a bit more.  Use them to separate towels, add baskets or simply elevate items for easier reach.  More great ideas for using stackable shelves in maximizing bathroom cabinet space can be found on our Under the Bathroom Sink Organization board here.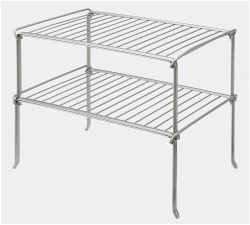 3.  Sliding drawers are great because you can put small items or odd shape items in them and still maintain organization.  This photo and details on how these drawers are organized can be found here at O is for Organize.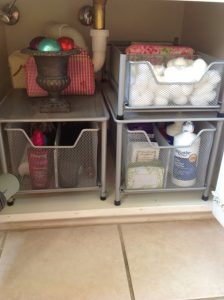 4.  Plastic drawers  These are amazing for keeping out dust, containing small items and when labeled, even adding a little decor.  They come a variety of sizes, price points and even colors.  We use ours to hold bobby pins, little girls barrettes and small nail items.  What will you use yours for?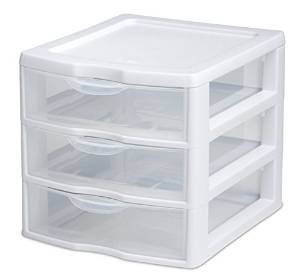 5.  Lidded bins and tubs.  I love using these because you can grab what you want and take it anywhere you need it.  They are perfect for storing first aid kits, beach kits, pool kits, mani/pedi supplies, and so much more, and you can find them for less than a $1 each in fun colors at Dollar Tree and almost any department store.  Kerry at Living Organised did amazing job of labeling and organizing her First Aid supplies.  You can view more photos and read more about how she did it here.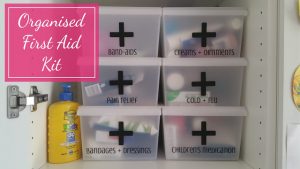 6.  Invest in an over the door organizer like this one from Clever Container, BUT be sure to purchase one like this, with padded hooks and back to ensure you don't scratch your doors.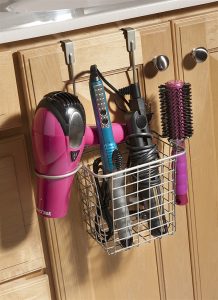 7.  Use Magazine/File Racks or upcycled boxes to hold shampoos, curling irons, toothpaste boxes and other tall awkward items.  You can find great links on creating your own here OR purchase them for only $1 at your local Dollar Tree.
8.  Command Hooks are perfect for mounting to the door for small regularly used items or extra bath sponges.
9.  A dowel or tension rod can be ran across the top to hand bottles and baskets with hooks on.
10.  Repurpose old bottles and jars.  Add labels or decor and store your excess or even regularly used items.
---
Need to organize more than under your bathroom sink?  Join our 30 Day Organizing Challenge and get a jump start on organizing your entire home, one day at a time.
Please know that this post contains affiliate links at no cost to you, but helps me to pay for all the little fees I incur while trying to encourage you to get organized, pay off debt, build your savings and live simply.  You can read our full disclosure policy here.
---
You can find more great tips for organizing your makeup and nail polish here and hair accessories here.
And see a whole world of organizing ideas on our Pinterest boards here.
This post is linked up at a variety of linky parties.
Check out the extensive list here.
Save
Save
Save
Save
Save
Save
Save
Save
Save
Save
Save
Save
Save