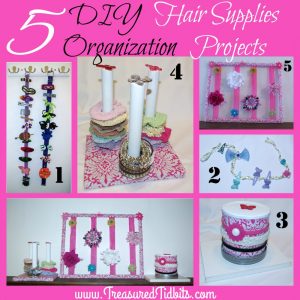 5 DIY Hair Supply Organization Ideas



Using every day items from home.
When my girls were younger and I worked outside the home I became frustrated time after time with finding broken or missing hair items.
At the time, finances were tight and space was limited so organizers from the store were not an option.
One Saturday when I was frustrated beyond the usual level we began searching for "on-hand" items we could use to control the mess.
We began by trying out different items in our home.  We found that Quaker Oat containers were perfect to place headbands on and for storing the essentials such as combs, brushes, etc…. inside.
We tried to use Pringles cans for the stretchy hair ties (keeping to the food container theme) but they seemed to stretch them to the limit so we tossed that idea and found part of an old closet rod we could use instead.    
 (We found that these work well for bracelets too.)
At the time, we simply painted everything to match the trim in our girls' room, mounted it to the wall and solved some  of our problems.
(They still didn't put themselves away but the messes did get better.)
We have since upgraded to more "fashionable" designs but kept to the "Reduce, Reuse, Recycle" motto and created organizers suitable to their individual rooms.
The best part has been creating them together and sharing some mother/daughter time.
---
Here are 5 Hair Supply Organization ideas that have worked well for us.
1.)  Hang hair clips and larger barrettes on outgrown belts.  We prefer bright colored ones made from material because they are easier to snap the barrettes onto and prevent slippage.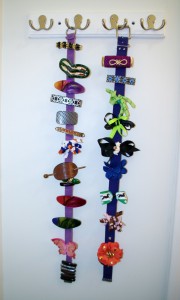 2.)  Braided ribbons to hang smaller barrettes and special bobby pins on.  Simply clip or tie 3 contrasting ribbons (or yarns) together, braid and hang.  This one is perfect for those tiny baby and toddler clips or barrettes.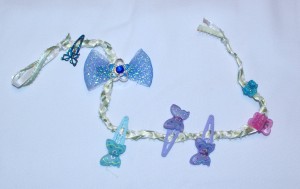 3.)  Hot Chocolate Headband Holder.  Hot chocolate, coffee or oatmeal cans mounted to a piece of wood make the perfect headband holder.  These can be mounted to the wall or set on a shelf.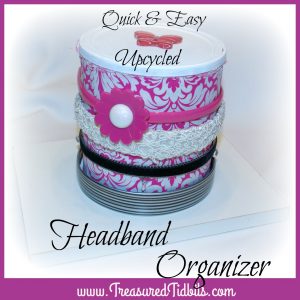 4.)  Dowel/Paper Towel Ponytail Holder- We prefer the dowels but have been known to use paper towel holders when in short supply.  These work well for bracelets too and can be mounted to the wall or set on a shelf.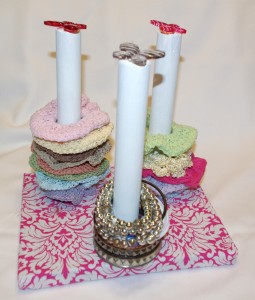 5.)  Picture Frame Hair Bow Holder– Works well for smaller and larger hair clips.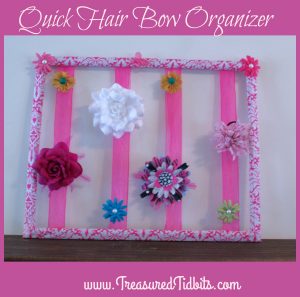 Please feel free to share and promote this post on the social media of your choice.

To discover more great ideas we encourage you to follow us on Pinterest, Facebook, Instagram or sign up for weekly emails.
Are you a blogger with low budget hair supply organization ideas?
---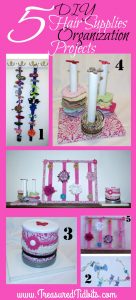 Please feel free to make suggestions, ask questions or share with your friends.
For more great ideas visit our Hair Supply Organization Board on Pinterest, join our Clutter Overcomers Group on Facebook or leave your question or tip below.
I hope these ideas have inspired you to tackle hair shoe organization, so you can stop being frustrated and start enjoying life.
Pleas share this post with your friends, pin it for later and share your thoughts below.
Remember you can follow us on Pinterest, Instagram and Facebook to discover additional deals, links, websites and receive encouragement for everyday.
Until next time,


Save
Save
Save