Tell us a bit about yourself, your family and your business.
I've been married for 18 years and I have 5 children (12, 7, 5, 3, and almost 1). My husband and I own a liquor store that barely provides enough income to make ends meet. I started The Bookkeeping Mama because that's what I am. While my husband runs the day to day operations of our store, I take care of our bookkeeping. As The Bookkeeping Mama I specialize in entrepreneur moms. I give them the freedom to nurture their families and their businesses, while I focus on their bookkeeping.
Why did you choose the company/method(s)/business, etc… that you use?
I have a bachelor's degree in business management with a concentration in accounting. I worked in the accounting field before having children, so a bookkeeping business was a natural progression of my work experience and my family life. Today's technology allows me to be a virtual bookkeeper so I can serve entrepreneur moms all over the country.
What do you struggle with?
What websites/bloggers have you found to be the most helpful with being a WAHM and making ends meet?
Learn more about Kimberly S. through the following social media links:
---
Do you work from home?  We would LOVE to share your story at Featured Friday!!!  You can begin the process by visiting our WAHM Featured Friday form here.
Want to read more Featured Friday WAHM posts?  Follow us on Facebook, Pinterest, Twitter, Email or Instagram.
Note: This post may contain affiliate links.  If you choose to click these links I may receive a small compensation at no cost to you.  For more information you can read our disclosure link here.

---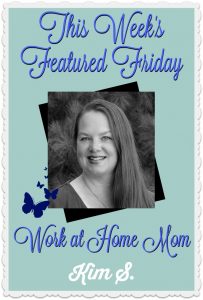 Save
Save