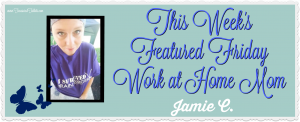 Work At Home Mom #8
Jamie C.
Name
Jamie Cameron
Business (es)

All the Trimmings
Tell us a bit about yourself, your family and your business.
I am a mother of many, a wife and a disabled Nurse. I worked many years as an RN, the last several in ICU, before I became sick and was forced to retire, becoming the patient instead. I live with and advocate for Ehlers Danlos, Chiari Malformation, Intracranial Hypertension, and more.
To help make ends meet and fill my suddenly open time, I began to dabble in my first love, the arts. My most frequent medium is pyrography, or wood burning. I also paint, both on canvas and clothing. And, when the muse hits, I create jewelry. Nearly every piece in my own closet is something that I made.