Sarah S.
Business:
Perfectly Posh with Sarah Scoles
Social Media Links:
Sarah Scoles Posh
Facebook group: Sarah's Posh Vips
Instagram @poshwithsarahscoles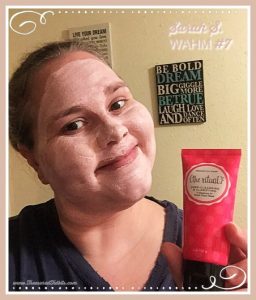 Tell us a bit about yourself, your family and your business.
I'm a full-time ER RN, wife, and mom of two. I became a Perfectly Posh consultant partly because I love the products and use them all the time, and partly to make some extra income to help pay off student loan debt.
Perfectly Posh is a naturally-based bath and body product line. We carry body lotions, bath products, hair care items, and facial products. Everything is naturally-based, which means no fillers, no petroleum, no SLS, no SLES, no tallow, and no talc. Everything we make is cruelty-free, under $25, and made in the USA. We also offer a lot of vegan products as well.
What inspired you to work from home?
I work outside the home 3 days a week, including every other weekend and holidays. I wanted to make some extra income to help pay off debt without missing out on anymore family time. I've missed a lot of important things with my kids over the years and I didn't want to miss more by taking on a second job outside the home.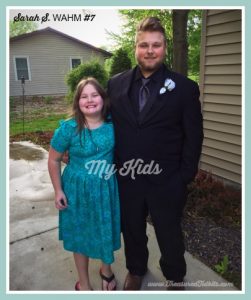 Why did you choose the company/method(s)/business, etc… that you use?
I chose Perfectly Posh first and foremost because I love their products. I've seen a huge improvement in the health of my skin since using these products. My family members and customers have also seen positive changes in their skin as well! Another reason I chose Posh is because of the flexibility this company allows. There are no crazy sales requirements and no recruiting pressure. You don't have to keep stock on hand or spend a certain amount on products every month. You really can run your business however you want to!
What do you feel makes or helps you be successful?
Definitely my supportive family and friends. Everyone has been awesome! I also have a wonderful customer base who love the products and are more than willing to share their opinions with others. The products are awesome and I always joke that if I can get it on people they'll be hooked, but it's honestly the truth!
What do you struggle with?
Finding people to host parties! I think people are afraid to host because they think there's a catch or that it requires a lot on their end. And that's so far from the truth! To be a hostess all you have to do is invite your friends and family and have fun! There's no requirement to buy anything as a hostess – all you do is reap the benefits!
What 5 tips would you offer someone contemplating your business adventure(s)?
Figure out why you want to do this. Having a "why?" is important in helping you stay focused and not getting discouraged.
Set attainable short and long term goals.
Be realistic about your goals too!
Don't be afraid to step outside of your comfort zone; talk to everyone about Posh!
And most importantly, have fun!
What books/websites/bloggers have you found to be the most helpful with being a WAHM and making ends meet?
I YouTube everything. I watch videos about sales tips, ideas, and inspiration from other consultants.
If possible, please share a breakdown of your work week or day.
My schedule varies from week to week depending on my nursing job, but I have a lot of flexibility with my Perfectly Posh business. I typically spend some time each day networking online and engaging with my social media groups; this is where smartphones come in handy. I can work my business from literally anywhere with wifi or cell service!
You can follow Sarah through the following social media links: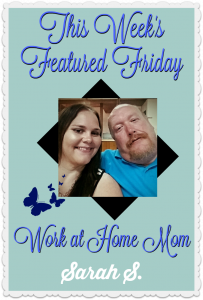 ---
Do you work from home?  We would LOVE to share your story at WAHM Featured Friday!!!  You can begin the process by visiting our WAHM Featured Friday form here.
Want to read more Featured Friday WAHM posts? Follow us on Facebook, Pinterest, Email or Instagram.
---
Save
Save
Save