---
Tell us a bit about yourself, your family and your business.
I live in Maryland with my husband and our two boys, who are two and a half and five months old. Life is pretty hectic, but we are slowly adjusting to our new normal as a family of four. I started my blog as a creative outlet (I love to write), with the hopes that it might become a viable business one day. Right now I am focusing on building my 'tribe' of professional women who find balancing work and family to be quite challenging, if not impossible!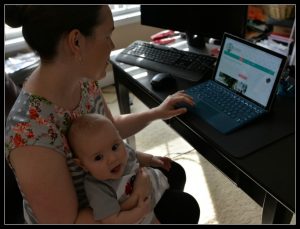 What inspired you to work from home?
I have a stressful job (my day job) which includes a very long commute. I would love to provide support to other moms in the same/similar situation and perhaps even use my side business as a way to transition out of the daytime job.
Why did you choose the company/method(s)/business, etc… that you use?
I have a background in writing and find it is the easiest way for me to communicate. So a blog just made sense.
SuburbanImperfection.com
is not my first blog (gasp!), but the only one I have been able to stick with thus far. Perhaps it is finally the right fit, as far as content goes.
What do you feel makes or helps you be successful?
Having a community of like-minded business women has been very helpful. I lean on friends in 'real life' and via social media to stay connected, grounded and motivated. Social media is such a great tool to find exactly the group to fit your needs. Also, having a supportive spouse is priceless. My husband will take our son out with him for errands if I need some time alone.
What do you struggle with?
Time Management. Some weeks, my day job has me away from home for 12+ hours a day. Finding time for my family is hard enough. Squeezing in my blog often happens at 6 a.m. on the weekend or at 9 p.m. during the week.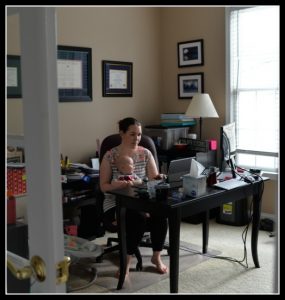 What 5 tips would you offer someone contemplating your business adventure(s)?
Be serious about it. If you want it to be a business/source of income, treat it like it is. This includes scheduling time for your business.
You really should enjoy writing in order to do a blog (in my opinion). It can be hard to create content consistently, even if you like writing as much as I do.
 Talk to others who have been where you want to go. I enjoy meeting other 'mompreneurs' and learning from their experience
Understand that there will be sacrifices. Some nights I am exhausted, but I still make time for my blog.
 Did I mention it is after 10 p.m.? I'm not sure I can think of anything else right now. 🙂
What 3 books/websites/bloggers have you found to be the most helpful with being a WAHM and making ends meet?
If possible, please share a breakdown of your work week or day.
Monday – Thursday, out door by 6:25 a.m. and back home at 6 p.m. Blogging done after my son is in bed, usually from 9 p.m. until about 10:30 p.m.
Friday – Work from home, take time throughout day and after my 'shift' ends at 4:30 to do blog maintenance before picking up my son at daycare.
Saturday – If I am lucky, I have my mother's helper come over and watch my son while I get about two hours of blog work done in my office.
Otherwise, I live for nap time on weekends! Sometimes he naps, sometimes he doesn't. I have to be flexible with my expectations.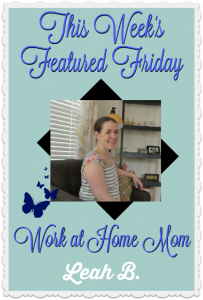 You can follow Leah through the following social networks:
---
Do you work from home?  We would LOVE to share your story at Featured Friday!!!  You can begin the process by visiting our WAHM Featured Friday form here.
Want to read more Featured Friday WAHM posts?   Follow us on Facebook, Pinterest, Email or Instagram.
Note: This post may contain affiliate links.  If you choose to click these links I may receive a small compensation at no cost to you.
Save
Save
Save
Save
Save
Save
Save