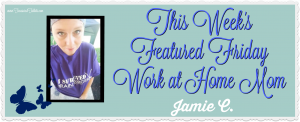 Work At Home Mom #8
Jamie C.
Name
Jamie Cameron
Business (es)

All the Trimmings
Tell us a bit about yourself, your family and your business.
I am a mother of many, a wife and a disabled Nurse. I worked many years as an RN, the last several in ICU, before I became sick and was forced to retire, becoming the patient instead. I live with and advocate for Ehlers Danlos, Chiari Malformation, Intracranial Hypertension, and more.
To help make ends meet and fill my suddenly open time, I began to dabble in my first love, the arts. My most frequent medium is pyrography, or wood burning. I also paint, both on canvas and clothing. And, when the muse hits, I create jewelry. Nearly every piece in my own closet is something that I made.
What inspired you to work from home?
I've always been a VERY busy person. When my career came to a halt I had to find something to fill the time. And, I had to find a way to help supplement the suddenly missing income and help finance the outrageous medical costs that I was suddenly racking up. Two birds, one stone.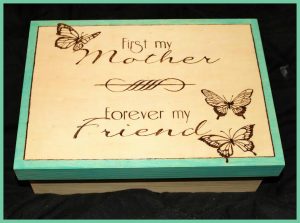 Why did you choose the company/method(s)/business, etc… that you use?
I am an artist at heart and had always wanted to try wood burning. It was love at first flame. I love the smell of the wood, the look of the burn, the feel of the pens. I love everything, from choosing the right piece of wood to glossing a finished piece. I truly love what I do.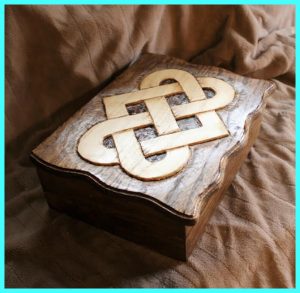 What do you feel makes or helps you be successful?
My love for what I do.
What do you struggle with?
Time management. That is always my biggest battle. And how to advertise and sell during my "slow" season.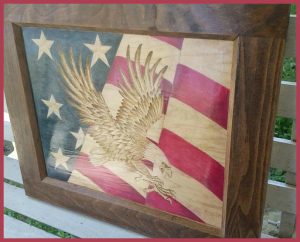 What 5 tips would you offer someone contemplating your business adventure(s)?
1. Don't go into this planning to make a living wage at first.
2. Practice, practice, practice.
3. Seek out ideas and advice from others who are already established.
4. If you plan to make a go of it, invest in quality equipment.
5. Don't be modest. Push your product everywhere you can.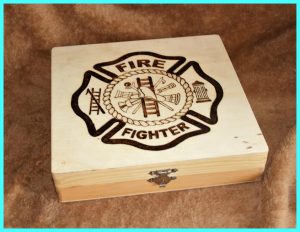 What 3 books/websites/bloggers have you found to be the most helpful with being a WAHM and making ends meet?
I found the most help from Facebook groups and Youtube instructionals. Pyrography is not a common art and information is difficult to find.
If possible, please share a breakdown of your work week or day.
During my busy seasons, I try to put a full day into what I do just as I would if I were working on the clock. I make considerations for my disabilities, take frequent breaks, take care of my hands, pay attention to my body.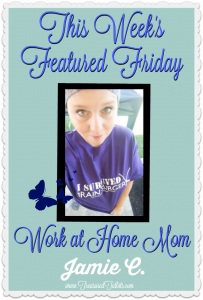 You can follow Jamie and view more of her creations through the following social medias:
https://www.etsy.com/shop/jamiewithtwins
https://www.facebook.com/AlltheTrimmingsbyJamie
---
Do you work from home?  We would LOVE to share your story in our Featured Friday Work At Home Mom series!!!  You can begin the process by visiting our Work At Home Mom Featured Friday form, here.
Want to read more Featured Friday Work At Home Mom posts?  Follow us on Facebook, Pinterest, Email or Instagram.
Save
Save
Save
Save