Young LivingEssential Oils
Tell us a bit about yourself, your family and your business.
As a busy work at home mom of two little ones (ages 12 and 9), I know how crazy life can get – and with seventeen years of corporate America under my belt I also know how important it is to keep all the aspects of our life in balance. That's my goal for you – to live a healthy, full and happy life!!! I work with other busy professional working moms to help them balance their health (all aspects of health), their career, their families and their lives. I want them to enjoy and LIVE each day, not just try to "get through it."
Why did you choose the company/method(s)/business, etc… that you use?
I am passionate about health and nutrition and I strongly believe that we should all be enjoying life every day – not just on vacations or other "special" times – after all, we only live once, so why not enjoy the journey. As for why I work with Young Living – the oils feed right into my passion for healthy living and there are so many amazing uses for them – I have oils in every room in my house and use multiple ones each and every day!
What do you feel makes or helps you be successful?
My passion for what I do and my desire to see other moms happy and healthy.
What do you struggle with?
Wanting to do it all!
What 5 tips would you offer someone contemplating your business adventure(s)?
Make sure you love what you are doing.
Never stop learning – educate yourself and experiment.
Be realistic about how much time you have to invest.
Enjoy the process – live what you teach.
Be willing to change things up when needed – be flexible.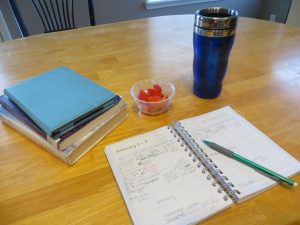 What 3 books/websites/bloggers have you found to be the most helpful with being a WAHM and making ends meet?
Please share a breakdown of your work week or day.
Every day is a little bit different depending upon what I have going on – what projects, how many one on one clients and what the kid's schedule is like.
Since I have a full time professional job, I spend most of my work hours handling that.
I fit in my coaching and blogging either early in the morning, during lunch time, or while the kids are at their sports practices – it's amazing how much work I can accomplish during a hour and a half swim or soccer practice!
When I work with clients, I fit it into their schedule and then might work a little extra in the evening after the kids have gone to bed to "make up" that time.
I very rarely work on the weekends – that is sacred family time.
Share any additional tips or info you feel would inspire others. This can include ways you save, plan, products you use, quotes, memes and more.
The most important thing I can share is to remember your values – don't get so caught up in making money that you forget the reason you are doing this – for me it's to spend quality time with my kids while they are young and to have a flexible schedule doing things I enjoy – I don't want to be "working now to have fun tomorrow." I want to enjoy today!
You can follow Pam and her businesses through the following social media links:
---
Do you work from home?  We would LOVE to share your story at Featured Friday!!!  You can begin the process by visiting our WAHM Featured Friday form here.
Want to read more Featured Friday WAHM posts?   Follow us on Facebook, Pinterest, Twitter, Email or Instagram.
Note: This post may contain affiliate links.  If you choose to click these links I may receive a small compensation at no cost to you.
Save
Save
Save
Save
Save