While, I love all those beautiful pantries where everything is colored coded, has a perfect home and is organized in beautifully coordinated labeled pieces, I realize that for many of us having fancy food and pantry organization is simply not possible.  We are happy just to be even remotely organized.  I think that beautiful, matching, color coded pantries are great, BUT I think that  "Using what you have, where you are, for what you need", especially while you are trying to build your emergency fund or pay off debt, is even more important.  Being organized in the kitchen can save you money, but I don't feel it's necessary to go broke to get there.  I know we didn't.
---
Today, I want t share 18 DIFFERENT ways to organize your Food and Pantry.  These items range in price from FREE to $10+.  Many of the items can be found in your home or at second hand stores for minimal cost.  You just need to decide what will HELP your kitchen.  The tips I share in Day 5 of the 30 Day Organizing Challenge makes deciding which items you need to organize your food and pantry super easy.  Want to know what they are?  Sign up for our FREE 30 Day Organizing Challenge email series here.
---
18 Food and Pantry Organization Tools You Can Use
 Empty jars– Mason jars, food jars, pasta sauce jars.  These are COMPLETELY free and can be used for any number of things.  Beans, Pasta, Snacks, Cupcake liners, dried peppers, brown sugar and more.  SO many times we have a portion of a box or bag left and repurposed jars ARE perfect for storage, plus they keep out bugs, are see through for identification and can be livened up with some pretty labels or washi tape.  PLUS they are absolutely FREE.  You can't beat that!
Empty, repurposed food and storage containers– We use gallon ice cream containers, butter containers, lunch meat containers and more, both with and without the lids.  We also use them to freeze soups, cookies and cookie dough in the freezer.  The shallow, clear lunch meat containers are perfect for small spices, essential oils and corralling items in that tiny narrow drawer everyone seems to have next to their stove
Empty soda boxes to organized and control soup and vegetable cans, especially if you buy in bulk. Then She Made has a great step by step picture tutorial you can find here.  It's free, it's easy and it works great!  Planning to make at least four during our spring makeover.
Stacked store boxes.  Until we start our kitchen makeover I will continue to use this method for keeping track of our soup and what quantity we have on hand.
Stackable shelves are great for creating a little more space and eliminating the need to stack items precariously on top of one another.  I have found them at resale shops, garage sales and of course more department stores, and the prices vary greatly based on the size, strength, brand and store.DecoBros Expandable Stackable Kitchen Cabinet and Counter Shelf Organizer,Silver
Slide on shelf.  We use ours to hold napkins, bread, marshmallows or taco shells.  Things we don't want squished or crumbled.

 Can stepper.   If you don't have a large quantity of the same soups, this might be better suited for you.  You can see EXACTLY which soups you have, in a glance.       [/easyazon_link]
Use pants/skirt hangers to hang bags of chips from wire shelves or command hooks.  Not only will you free up valuable cabinet space but you will be able to see what snacks you have in a glance.
Use an old magazine/file organizer to hold potatoes and onions or mount to the wall open side up and store bags, taco shells and more.
Purchased Can Organizers.  The options are limitless.  The benefits amazing, just be sure to measure twice before ordering online.
Wall mounted baskets, boxes, etc…  You can choose the size, decorate to suit your style and free up even more shelf space.  Don't have a real pantry?  Mount to the inside of a cabinet door, just be sure to adjust the height so that it will close when in use.  kitchn.com shares this idea here.
Over the door pockets.  These can be found almost anywhere as well.  I use them ALL over our house for much more than the pantry, but they work well there as well. [easyazon_link identifier="B01GNN6PR4" locale="US" tag="treasuredtidbits-20"][/easyazon_link]
13.  Any basket– wicker, wire, plastic, etc….  They are perfect for holding utensils, bottles, odd shaped items, drink packets & more.
14.  Stacking baskets.  I use the ones from Clever Container and they are perfect for my potatoes, cloth napkins and kitchen towels, but honestly the uses are limitless because you can stack them as high or as low as you need.  Last I knew, Dollar Tree had them available in pretty colors for only $1.00 each.  I love these corner baskets from Amazon though.  They are just too pretty.  Don't ya think?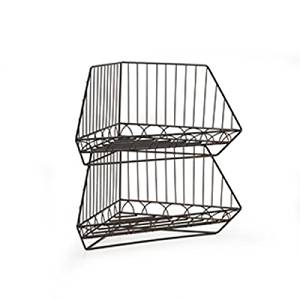 15.  Lazy Susan.  Need I say more?  My only suggestion would be to make certain you are not losing space by adding a round, moving item.  This one from Amazon has sides and is only $4.99.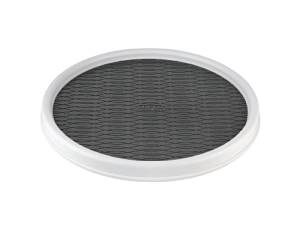 16.  Add a narrow bookshelf to another room, hall closet, master closet, garage or laundry room.  Ours has been a life saver.  Allowing me to have an overflow of food without overcrowding my tiny kitchen.  By using narrow shelves I can quickly take inventory and see what we have.  Once a week, I bring stock into the cabinets from the "overflow" area while I create our weekly menu and shopping list.
17.  Create one of these amazing shelf units.  I want one desperately but can't figure out how to make it work due to the layout of my kitchen.  I think it would be fantastic to have.  The brilliant lady at Classy Clutter shares it AND the tutorial here.   It would even work well in a rental or camper.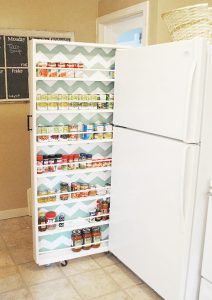 18.  Build your own can rack and rotating system following the tutorial from The Homestead Survival.com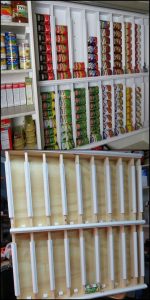 More great ideas can be found on our Food and Pantry Storage board as well as Kitchen Organization.
---
This post is linked up at a variety of link ups.
For an extensive list of the link ups we enjoy and link to click here.
This post contains affiliate links at NO cost to you.  To find out more about what this means read our disclosure policy here.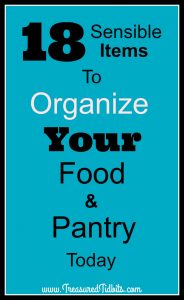 Save
Save
Save
Save
Save
Save
Save
Save
Save
Save
Save
Save
Save