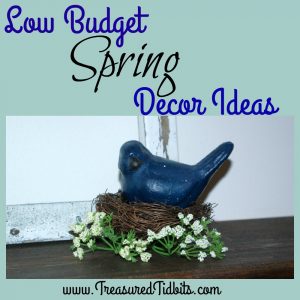 Simple Spring Decor For Any Space

I don't know about you, but Spring is one of my favorite times of the year: birds singing, grass turning green, flowers brimming with beautiful bright new colors and of course the weather is warming up.  We hope.
Due to our hectic schedule I am only able to share a few, simple ideas today.  Ones I created with what else?  Things we already had in our home.  Many of these items you will see in this series you may recognize from our recent St. Patrick's Series found here.   I am a firm believer in reusing and repurposing everything you can to save both the environment, storage space and of course, money.
---
Up first is our mantel.
Our mantel is in the center of the main floor so it tends to set the mood for the rest of the room and is visible to any guests entering our home.
This means, I try to create it first, for every holiday and every season then build the remaining decor around it's theme and color scheme.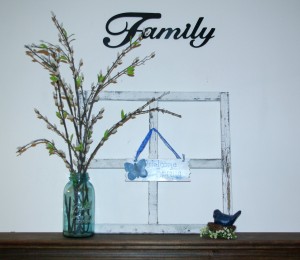 As always, we began with the window frame that we build most of our mantel displays around.
And for today's Spring Decor we simply added
1.) An old mason jar with pussy willow branches tucked in  (Both were rummage sale finds.)
2.) A Welcome Spring sign  (I painted on a wooden sign from Michael's a few years ago.)
3.) A blue paper mache bird (I also painted.)
4.) A small bird's nest with some loose blossoms tucked around.
It took less than 5 minutes to create and changed the look in the main rooms immensely.
Here are a few close ups.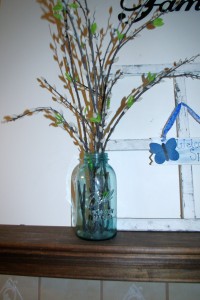 Of course, there is a bird in the display.  It can't be "spring" decor without a pretty little bird and a butterfly.  Not in our house anyway.
---
I like to have our seasons begin at the front door and this usually involves a fresh rug and fresh wreath, not necessarily new, just different than the ones we use for winter.  To be honest, usually our winter rugs aren't worth keeping for the following year.
We haven't found a replacement rug yet, but I am recycling the tulip wreath I created a few years ago with a grapevine wreath and tiny tulip flower bushes from Dollar Tree.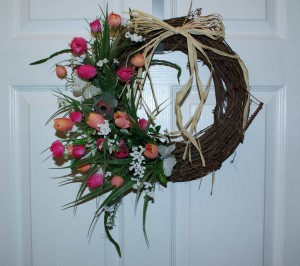 If you look closely you will see (tucked into the flowers) a tiny tin birdhouse and silver and white butterflies.   I enjoy adding little surprises in to our decor.
I also like to see Spring in other parts of our home, including the bathrooms, bedrooms and hallways.  After cold, dreary, central Illinois winters most of us are more than ready to add some life to as many places in our homes as we can.
The easiest way  to achieve this in the bathrooms is to add a touch of flowers and seasonal hand towels. Easy to clean, easy to store and quick to change with the seasons.  Dollar Tree always offers pretty flowers and seasonal hand towels for only $1.

The counter top towel rack makes it super convenient to hang both a seasonal towel and a towel for everyday use.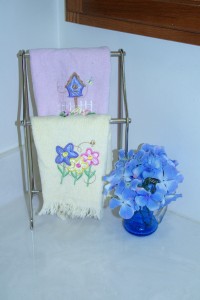 As I said the décor we added this year was simple and easy to create which is truly all we need to brighten our day, and hopefully yours.   What did you think?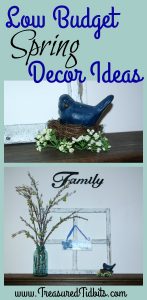 For more great low budget, simple decor ideas you can follow us on Pinterest, Facebook, Instagram or sign up for weekly emails (we promise not to spam you).
If you are a blogger featuring zero/low budget decorating ideas please feel free to share a link in our comment section.
Disclaimer:  Some of above links are affiliate links and may result in a small compensation if you click on them, at absolutely no cost or effect to you.  To learn more, visit our disclosure policy here.
Save
Save