Simple Easter Decor & More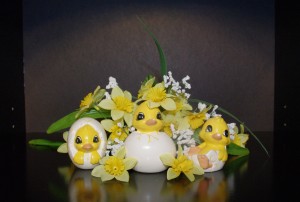 Yep, I am finally getting around to posting the last of our spring decor series at almost 11:00pm on a Saturday night.
I am a procrastinator.  I admit it.
Actually, I could finally use my arm a little more today, (apparently tripping over the cat last night helped my shoulder but not so much my spine), and I spent today working on things I couldn't do for the past few weeks.
(Thankfully my husband is a willing assistant in my often hair-brained ideas.  Gotta love him!)
Due to the fact that the above mentioned shoulder has not been cooperative for almost a month, I was not able to do all the indoor spring and Easter decorating I would have liked.  So tonight, I finally gave in and we, (meaning my husband), took pictures of what I did get accomplished.
Thank goodness, we can crop photos now and you cannot see the extra furniture and boxes in our home while I prepare for next week's garage sale.
Isn't technology great?
Alright enough excuses.  Here's the pics.  All the ideas are quite basic and I will only be sharing how we created one of them because  right now, for me, that was a challenge.
Let's begin with the new mantel.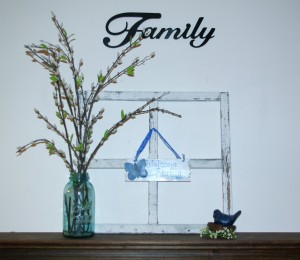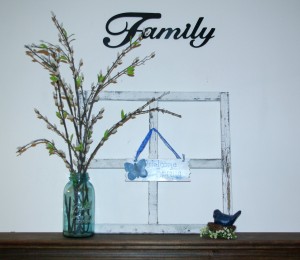 In our Simple Spring Decor tour I put together a quick, simple mantel to chase away the winter blues, but when we were able to bring up the rest of the Spring décor I found my "Spring" hatchlings.  I absolutely LOVE these guys.  They are so stinkin' cute.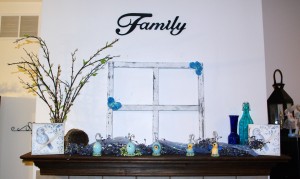 If you look closely you will see the five hatching birds spell "C-H-I-R-P" in springy letters above their heads.
I found these a few years ago in a little store front in Casey, IL and fell in love with them immediately.  I waited a week and told my hubby I wanted them, (even at full price), for Mother's Day.
As you can see we got them.
Everything else, of course, has come from thrift shops or garage sales and are used numerous times through out our home.
Important note:  My youngest daughter has threatened that if I buy one more BLUE thing she's moving out.  So for Easter we added YELLOW.
---
Our buffet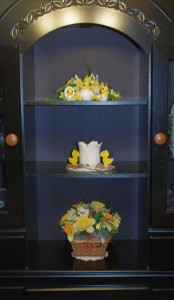 Our buffet can be a bit tricky to decorate because occasionally my crazy cats will try to become our buffet décor themselves, so I decorate with that in mind and keep my breakables as protected as possible.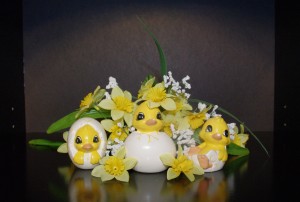 I love these three little hand painted ceramic hatchling ducks, but they are so plain by themselves that this year I was determined to add a little color and dimension.
I won't mention the number of combinations I tried before I reached this one, but as you can see from photo #2 it appears to be quite simple.  Because I wanted the daffodils to spread around and be in between the ducks, I layed them flat on the shelf.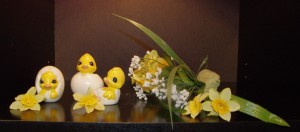 This of course, did not work and since I do not like messes I tried to avoid using the green foam but I broke down and finally did.  I must admit, it looks great!
I simply cut a small narrow piece of green foam, you can see it peeking from behind the above photo, inserted the stems at varying angles then rearranged them to make certain you could not see the messy green foam from any angle on the front.
Everyone has loved it and it didn't cost me a dime.  I inherited the ducks, I need to touch up the beaks, I know, the daffodils and white flowers were from another project, making the final cost to me zero besides the time to create and clean up.
Now with the bright yellow flowers and ducklings on the top shelf my OCD made encouraged me to carry the theme throughout the buffet.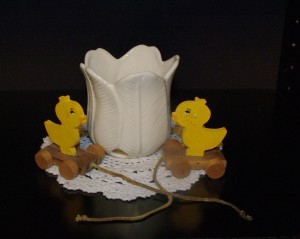 But who could resist these adorable little pull toy ducks, anyway?
I bought the blank shapes and painted them a few years ago for another project and then repurposed them here.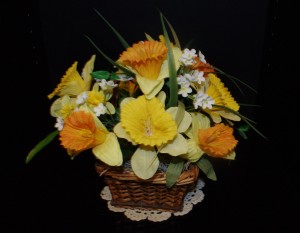 The bottom shelf received a blooming basket of more daffodils to complete the look.
The end result?  A beautiful buffet that was fun, easy and completely free!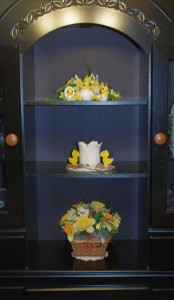 My favorite kind of display.
---
Last but not least, we brought in a little Easter with some whimsical bunnies above our TV.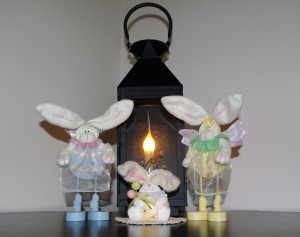 Want to discover more great zero/low budget decor ideas?  Follow us on Pinterest, Instagram, Facebook or sign up for weekly email updates.
Save
Save