Fall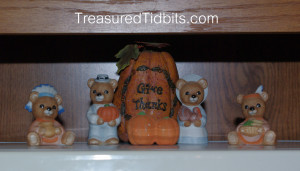 Fall is one of my favorite times of the year.  It's not too hot, not too cold, and who doesn't love scarecrows?
I don't generally decorate much for Halloween, but FALL is another story.
I usually have our fall decorations upstairs and ready to go by Labor Day weekend, but….this year September was not a good month.  It is already Oct 7th and I am just beginning to put things out (with the help of my wonderful hubby).  Thank God he is a patient man.
Above the Back Door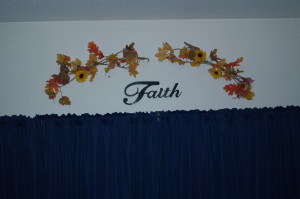 There is a matching one over our front door.
This is one of the easiest things we do.
During the main part of the year there are blue swags, and we simply switch them out for each season.
My hubby is wonderful, but absolutely does not like holes in our walls, so I use as many existing ones as possible, and besides we only have to measure once that way.
Above the Upper Cabinets

These pumpkins are the same size but the center one is raised by placing it on an empty container; for tips on decorating above your cabinets click here and here.
The leaves, sunflowers and scarecrows are Dollar Store finds but I was lucky and grabbed them up for even less at some yard sales.
Dining Room Buffet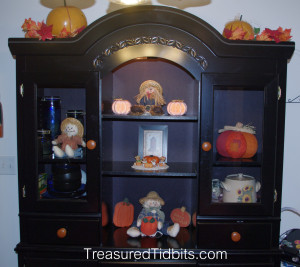 Every one off these items has been purchased at garage sales, resale shops or was created by me (except the cat photo).
Fall Mantel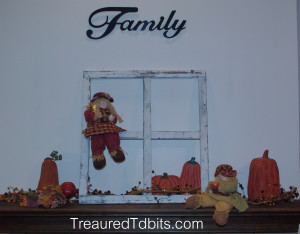 This is a work in progress.
The pumpkins in the center have faces on the other side but I prefer the plain pumpkin look, and the berries have battery operated warm colored lights that are beautiful with the lights off.
.
On Top the T
V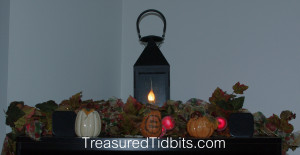 My mother-in-law gave us the beautiful lantern a few years ago and the rest was….you guessed it, purchased at a second hand store.
Entry Shelf in the Hall
(until the cats redecorate for me)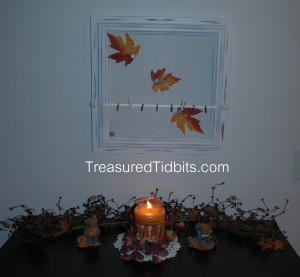 This is the very first thing visitors see when they knock on our door and is very,very difficult to keep free of clutter.  Anyone else have that issue?

---
If you enjoyed this post you might also enjoy our spring 2014 series found here and here.
You can also follow us on Pinterest, Instagram and Facebook, plus sign up for weekly email updates directly from me.
Save
Save
Save
Save
Save