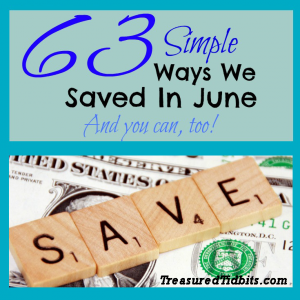 At Home
Called about our new water bill system because I received two bills within 24 hours.  They had accidentally double billed us.  This saved us $90.00 +
Used last year's freezer tomatoes to create freezer chili, tomato soup and pasta sauce
Made homemade dishwasher tabs using this great recipe from One Good Thing By Jillee
Made homemade laundry soap for the first time
Made homemade laundry stain remover by adding some Oxiclean and Water to my Shout spray bottle.
Cleaned our dishwasher drain because our dishes were not coming clean and just wasting power & water
Bought leftover bottles of essential oils from friends, so I could "try" them before ordering
Previewed an essential oil class, for a friend, at a HUGE discount.  She received feedback, and I learned a ton.
Took a chance, and signed up for some FREE online classes on how to grow our blog on Pinterest
Listened to a FREE Podcast about growing our blog
Researched ways to cook from scratch in preparation for the coming Farmer's Markets
Used cloth napkins
Used leftover water to water indoor plants
Turned lights off when leaving a room
Used natural light to work during the day (this helps fight depression as well)
Created weekly menus based on the food we had on hand, as well as sale items
Created a weekly shopping list with a BUDGET and stuck to it
Created a supply list and eliminated extras until it fit our budget
Used produce from our garden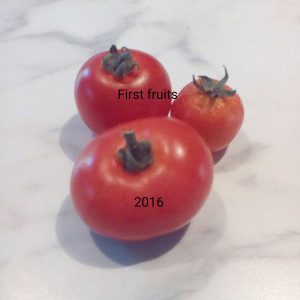 Consumed leftovers
Planned/adjusted our menu around leftovers
Washed clothes on cold (except those that need sterilized) 
For more $ saving laundry tips, click here.

Treated stains immediately
Made homemade house cleaner using vinegar and lemon peels
Added lemon juice to our apples to make them last
Made homemade fruit dip from items we had on hand
Stocked up on meat while it was "marked down"
Wore aprons to protect our clothes while cleaning, prepping, eating and cooking
Separated large meat before freezing to save time and money
Cooked chicken, hamburger, etc… in bulk to save time, money, dishes and stress
Bought peppers in bulk, then sliced and froze for the freezer
Composted
Fed the local bunnies unused lettuce
Fed our birds damaged fruit (this saves on birdseed)
Turned unused bread into breadcrumb coating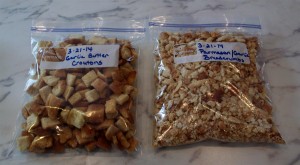 Pre planned meals to make double, or even triple, use of the warm oven
Said "Do we really need that?"  Yep, this is a big money saver.  I like to tell my kids to put it on the list, and if they still want it come payday, then we work it into the budget.
Reviewed our bank account and budget weekly, to encourage myself to stick to it
Shopping
Made my children create handwritten wants and needs lists for clothing, when we went through our summer wardrobes.  Then keeping those lists updated as the summer progressed.
Searched online for comparable prices for those personal items we don't buy used, so that we knew if we were getting a good buy.
Shopped our local Kmart for ALL of our household supplies and new clothing items.  The store is closing and was 20%-70% off.
Shopped Kmart on a Friends & Family Day and saved an additional 10%
Uploaded Shop Your Way digital coupons to my Kmart card before we left to shop- This saved us an extra $20 and earned us an additional $45 in Shop Your Way points for further purchases
Used our Shop Your Way Reward points to purchase additional items a few weeks later (including my son's shoes)
Shopped the local resale shop, Blessingdales, for our clothing checklist, BEFORE Kmart.  (I was able to find some "like new" tops and PJs for $1.50 or less.)
Used the Amazon card we earned through Swagbucks to order a Kindle Fire Cover and special lightbulbs for our living room
Used Gift cards to treat our family to a rare nice meal out at Red Lobster
Shopped the local Farmers Market for produce
Clipped Coupons
Used the Target Cartwheel
Uploaded and Used Kroger's Free Friday Downloads
Used Kroger's Fuel Points for discounts on gas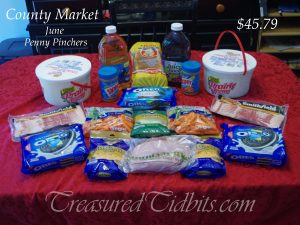 Shopped Aldis
Skipped craft stores, resale shops and rummage sales (despite my family's requests)
On the Road
Took a cooler while shopping, to avoid food spoiling
Took a cooler to Red Lobster because I knew we would have leftovers
Packed a cooler for our hospital and ER runs
Packed a drink cooler when traveling to family and shopping
Packed a bag for ER and hospital stays (It can get expensive when you are stranded three hours from home.)
Planned kid's out of town doctors appointments for same day, to save on gas, stress and meals
Planned all out of town trips to include a stop at our local Aldis to buy milk, eggs and other groceries, at a HUGE discount
Preplanned in town and out of town errands, to save on gas


---
If you enjoyed this "Ways We Saved" post you might like our Pinterest board as well.
We also share "Ways We Saved" each month and you can find those on our "Ways to Earn from Home"  Pinterest Board.
---
This page contains affiliate links, meaning we earn a commission if you use those links at no cost to you.

We recommend only products, stores and programs we have experience with and trust.
Don't forget to follow us on Instagram, Pinterest, Facebook and email, where we share daily deals, fun links and other helpful sites.
If you found this post helpful, please share it on your social media and leave a comment of encouragement below.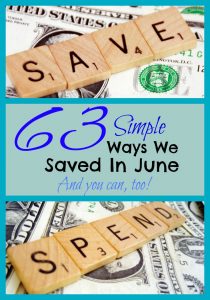 ---
This post is linked up at the amazing link parties listed here.