Many of you have asked how we prepare food without going crazy with so many food intolerances and physical challenges in our home.  I have decided to try to share each week's menu plan and prep list with you.
---
This Week's Freezer Prep
We did this immediately after returning from this shopping trip.
Chicken
We immediately put an entire package of chicken in the crock pot for my daughter with meat and seasoning intolerances, and let it cook while we worked on packaging and cooking everything else.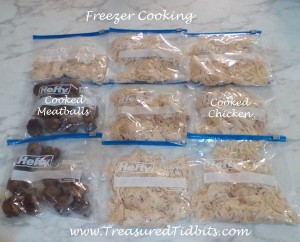 She adds it to salad, tacos and more.  We package it into cup size bags and thaw it as needed.
We created 2 bags of Chicken Ranch Chili for a quick easy crock pot meal that we can leave in the crock pot ALL day while we are gone to appointments.  You can find the recipe we use, here.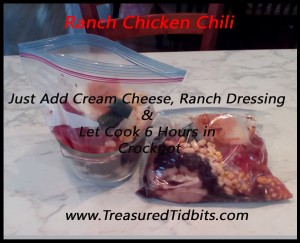 Tip:  Set your bag in a cup or bowl to keep it upright as you add your ingredients.  Then seal, date, label and freeze.  It is much less messy.
We cut the remaining chicken into strips for Stir-Fry, Parmesan Coated Chicken Strips and cubes for easy, grilled kabobs.
Beef
We browned half a package to use in spaghetti, tacos and pizzas.  We let it cook while we worked on sorting the fresh meat and labeled the bags.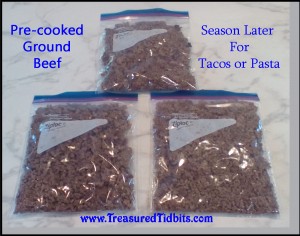 We divided the fresh burger into patties and separated them by wax paper.  Then froze the remaining hamburger into additional packages of approx 1 lb each for any odd meals or unexpected guests.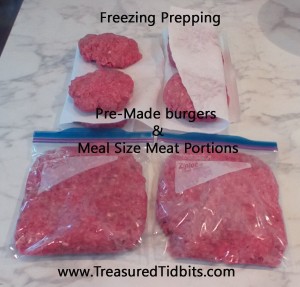 We used another package to create meatballs and meatloaf; which we then cooked immediately for dinner that night and lunch the next day.  Then froze the extras for future use.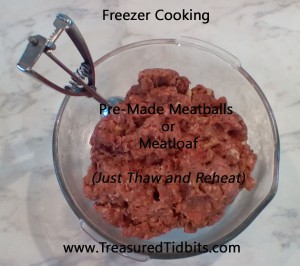 We save our unused bread for creating meatballs, meatloaf and breaded chicken strips.  You can find more on how we do that here.
---
2 Week Menu Plan
Saturday– Meatball Subs, Salad & Chocolate Pie  We used clearance bakery french bread from Kroger's quick trip last week and topped them with homemade marinara sauce
Sunday– Steak and Chicken on the Grill with Rice, Deviled Eggs and Salad  We cooked extra and used it in lunches the rest of the week.
Monday– Homemade Chicken Stew with Bakery Fresh Bread, Salad and Chocolate Pie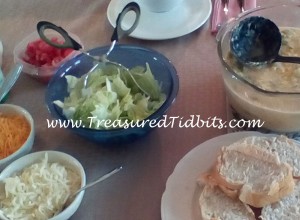 It was supposed to be chicken pot pie, but when I noticed the bread needed eaten, we changed it up.  The kids loved it!  Hubby not so much.  He isn't big on "mixed meals" like soup, pot pie, etc… but he ate it.  It was very simple to make since we had so many prepped veggies already in the freezer.  I added what I found, cut up some fresh potatoes and finished it with some cream of chicken.
Tuesday– Pasta, Garlic Bread and Salad  I had a meeting 30 minutes after hubby arrived home, so it needed to be quick and easy.
Wednesday– Homemade Tomato Soup & Grilled Cheese  The tomato soup began as an attempt to make homemade pasta sauce from our frozen garden tomatoes and juice.  My daughter decided it made a better soup, so we went with that.  She LOVED it!  Me not so much, since I can't stomach some of the spices.
Thursday- Bacon and Omelets or Eggs  Hubby stopped at Kroger to stock up on $.99 milk and noticed that they had close date ORGANIC eggs on sale for $.25/dozen, so he grabbed them and we cooked them up for dinner.
Friday- Pizzas and a Movie  Some of us had salad since pizza is taboo.
Saturday- Roast, Mashed Potatoes, Rolls, Deviled Eggs, Salad, Carrots & Apple Pie  My momma and sis were able to visit, so we threw the roast in the crock pot and let it cook all day while we visited.
Sunday- Burger & Fries with Salad
Monday- Chicken Stir Fry with Rice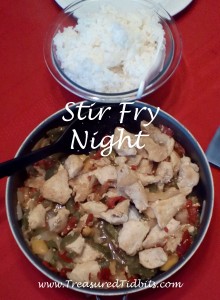 Tuesday- Pasta, Homemade Garlic Bread & Salad
Wednesday- Chicken Ranch Chili from last week's freezer cooking session.  We have appointments out of town all day.
Thursday- Daughter's Choice
Friday- Our 10 YEAR ANNIVERSARY and this couple is going out!  It will probably just be to here in town since we can't leave our daughter, but we are going somewhere!
---
What are you having for dinner this week?
Do you do any freezer prepping?
For more great posts follow us on Pinterest, Facebook, Instagram and sign up to receive weekly emails that will include FREE printables, additional tips and links each week.
Save
Save
Save