April Shopping Haul #1
Due to my health issues and severe pain when turning my head, writing, lifting my arms or driving, I chose to shop locally and with hubby this time.
I also decided to not to "stock up" on too many basics (we still have some fairly full cabinets and freezers).   Instead we shopped sales and bought meats.
---
Save A Lot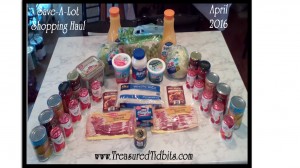 Save A Lot in our hometown is my favorite place to shop.  Not only do they have a clean store, great help, good prices and a wonderful fresh deli and meat.  They are literally right next door.  I always shop there first because I know the owners and prefer to share my business with them before I share it with anyone else.  I always take the lists I have created for County Market, Aldis, and Walmart in to Save A Lot so that I can compare prices to see if I discover they are running a special or carrying an item for a special period.
Example:  This week County Market offered Cap'n Crunch Cereal for $1.69 with a Penny Pincher.  Save A Lot offered the same box (actually slightly larger) for only $1.59.  Cap'n Crunch is not an item you usually find on their shelves so I originally had it on my County Market list.  (I made the decision not to purchase it after reading the ingredients but knowing it was an option was nice).
Kraft Cheese Singles  $1.99
Country Crock Butter  $2.99
Tropicana Orange Juice  $2.99 each
Yoplait Yogurt  $0.49 each
Prairie Farms Sour Cream  $2.29
Kraft Mayo  $2.99
Corn  $0.49 each
Beans  $0.69 each
Black Beans   $0.59 each
Sliced Olives  $1.18
Pot Roast Seasoning  $0.50 each
Pizza Sauce  $0.99 each
Beef Gravy  $0.99 each
Cottage Cheese  $3.49
Bacon  $2.79 each
White Seedless Grapes  $1.79 a pound
Heads of Lettuce  $0.99 each
---
Walmart
I generally try to avoid shopping too much at Walmart because I can get better deals by shopping ads and coupons but this week's complications made it the best choice.
We have two photos because I did not wish to ask hubby to lift the heavy waters and cat food to the island or table top.  He had already been shopping and was going to help freezer prep & cook after we put everything away.
Bread  $1.98
Pie Shell  Original Price $1.78  Clearance Price $0.75
Great Value Large Yogurt  $2.34
Mr. Clean Magic Eraser  $3.47
Shout Refill  $4.97
Starbucks Coffee  Original Price $7.48  Clearance Price $5.00
Starbucks Coffee  Original Price $7.98  Clearance Price $4.00
Vitamin C  $6.44
Deodorant  $3.97
Flinstone Vitamins  $13.44
Polyurethane  $4.97
Zinc  $3.94
Magnesium  $2.94
Pepsi  $3.98 each
7up  $2.74
32 pack Water  $3.98 each
Gatorade  $5.98 each
Meow Mix  $11.88
---
County Market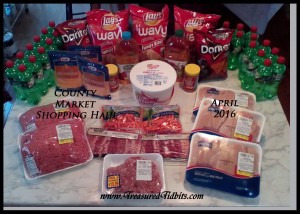 At the beginning of each month County Market issues a coupon booklet that is only good at County Market and their affiliates.  BUT it is usually good for at least 2 weeks and offers a variety of items that do not regularly have coupons available.   These items are noted with the words "Penny Pincher" below.  The additional items were on sale that weekend for a 2 -day sale or in the weekly flyer.
Doritos  Originally $4.29  Sale Price $1.99
Lays Chips  Originally $4.29  Sale Price $3.29  Used Penny Pincher for a final price of  $1.99
Peter Pan Peanut Butter  Originally $2.79  Sale Price $1.69
Apple Juice  Originally $2.59  Sale Price $0.99
10.64 lbs of Beef  Original Price $45.64  Final Price $21.17
11.47 lbs Boneless Chicken Breast  Original Price $50.35  Final Price $22.71
Sausage  $5.44
Bacon  Originally $4.99  Sale Price $3.99  Used Penny Pincher for a final price of $2.49
Baby Carrots  Originally $1.69  Sale Price $0.88
Shredded Cheese  Originally $2.79  Sale Price $2.50  Used Penny Pincher for a final price of $1.69
7up  Originally $3.69 each  Sale Price 4 for $8.88  Final Price $8.88 for 4
---
To check our two week meal plan and freezer prep from this shopping trip click here.

---

This post is linked up at Sharing Saturday