26 Ways We Saved & Earned This Week and You Can Too!
Saved
We packed drinks and snacks to take on our all day trip to the neurologist and shopping.
We left early to pick up my daughter's eye glasses (one hour away) on our way to her neurology appointment (two hours away).  This saved at least $15.00.
I planned my "in town" errands to save both time and gas.  It reduced the stopping, starting and driving in circles.
We brought a cooler and saved my daughter's lunch leftovers for the following day.  She splurged on stromboli from the mall food court.
We said "No".  No, to the $1.00 stickers I know I would have grabbed just a short month ago.  After all, it is only a $1.00, right?  We said no to the adorable $20.00 tutus that were marked down to only $2.00.  After all, it is only $2.00, right?
Yes, but that $3.00 times 52 weeks equals $156 (because once you say yes to the first item it is easier to say yes to rest).  And that is $156 I can use to build our emergency fund.
We wore aprons when cooking and cleaning to protect our clothes.  I don't mind a stained up, bleached up apron, but I can't stand to ruin perfectly good clothes.  (Hubby used to always have grease spots that took extra cleaners and scrubbing to remove, and one day a light bulb came on and I realized it was sausage grease from him cooking breakfast every morning.)
Created a menu to ensure we used up leftovers, eat from the freezer, fridge and cabinets and stay on track for "Just Make Do January".

Called about a medical bill we received months ago for my daughter and asked details as to why it wasn't covered by insurance yet.  An error was found and now it is covered in full.  (Savings $138+)

Ordered my daughter's medication by the week until her insurance kicked in and her co-pay began.

Checked online ads and coupons to purchase perishable items we needed.

We made the last payment on our van and we made it early!  WOO HOO!  I wish I could brag and say that it was years or even months early, but it was only a few weeks early.

Paid a new medical bill we received in full after calling to ask if they offer a discount for immediate pay.

Redeemed our two FREE items from

Kroger Free Fridays

Downloads.  A full loaf of bread and a single yogurt.  For more on how this works click here.  

Adjusted our budget and scheduled every penny to have a specific use or be delegated to savings.
Withdrew cash and put certain categories into labelled envelopes to control and track our spending.
Transferred savings, into savings the same day we were paid.  (No, slacking and "accidentally" spending it".  If it isn't available it can't tempt us.)

Reviewed and updated our savings plan to keep us on track and remind us it can be done.
Unsubscribed from clothing and "whatnot" stores, restaurants and "deal" program emails to reduce temptation.  Sometimes it is hard to pass up a sale or coupon.  (If I don't know about it, it can't tempt me.)


If we are not spending this year, there is absolutely NO reason for me to see the "sales" and "coupon" emails.  If we need a specific items that I cannot find at resale I can check the store site and use "Retail Me Not" to find a coupon.  I kept the grocery store emails, Amazon.com and Boxed because they offer grocery and supply items we will need throughout the year.

We moved my daughter into a new room and made sure to use items we had on hand to organize and decorate.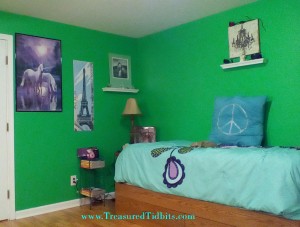 Earned
For additional savings tips (including several we used this week) check out the other posts in the Ways We Saved This Week series.
Thanks for stopping by, we certainly hope we were able to offer you some useful ideas.
If you are a fellow blogger and offer any great money saving tips on your blog, feel free to share your link below and in our current Sharing Saturdaylink-up.

 This post may include affiliate links please read our full disclosure policy here.


For more amazing and simple ways to save and earn follow us on Facebook, Instagram, Pinterest and sign up to receive weekly emails- where we share upcoming deals, printables and more.
This post is linked up at a variety of link ups.
For an extensive list of the link ups we enjoy and link to click here.