Menu Monday #14
As we enter week #14 and share our Menu Monday plan, we are wrapping up the end of our one month budgeted grocery period.  During this week we are trying hard to "Just Make Do" with food from the fridge and cabinets.  Keeping this in mind, we will not have a shopping trip to share this week, we didn't last week either.
I would estimate that we have spent approximately $50 for this week's groceries.  Those items included: 3 gallons of milk, eggs, cheese, bread, lunch meat, orange juice and a few more dairy products.  Items we were unable to pre-purchase and store in the freezer.
This is what our refrigerator looked like at the end of last week, not a lot of the basics on hand, which is the goal.  Most of the remaining containers are actually almost empty.  I would say we are doing a pretty good job of "Just Making Do," considering we consumed the leftovers you see in the upper right corner that same evening, and had very little to toss into the compost or trash.  As I was preparing this week's shopping list and Menu Monday plan, I tried hard to incorporate the partial items I found here, as well as what we still have in our freezer and cabinets.  It can get a bit tricky when you are using up those odds and ends; plus take into consideration everyone's food intolerances, but we did it!  And no one will starve.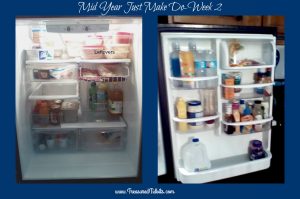 Monday:
Breakfast: Oatmeal/Cereal
Lunch: Leftover Taco Salad/Sandwiches
Snack: Ice Cream Sandwiches
Supper: Breaded Chicken Strips, Fries, and Corn on the Cob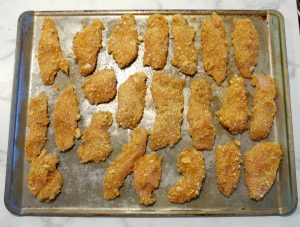 Tuesday
Breakfast: O.Y.O.
Lunch: Tuna Salad
Snack: Empty Snack Cabinet
Supper: BBQ Sandwiches, Chips, and Pasta Salad
Wednesday
Breakfast: French Toast, Frozen Fruit, OJ, and Milk
Lunch: Chicken Nuggets, Ramon Noodles, Green Beans, and Milk
Snack: Fruit, Crackers & Icing, and milk
Dinner: Chicken Alfredo Sauce & Pasta, Salad, and Zucchini Noodles (for daughter)
Thursday
Breakfast: Oatmeal/Cereal, Fruit, and Milk
Lunch: Pizza Buns, Chips, Fresh Veggies, and Milk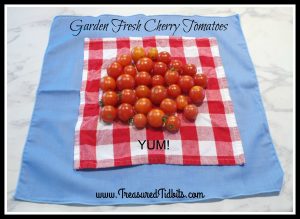 Snack: Fresh Fruit, Cookies, and Milk
Dinner: Steak, Potatoes, Green Beans, and Brownies
Friday
Breakfast: Bacon, Eggs, and Milk  Hash browns?
Lunch: Peanut Butter Sandwiches, Chips, and Fruit to go to park.  Boiled egg substitute for those with food intolerance
Snack: Brownies and Ice Cream  Last Day of Summer Babysitting
Dinner: Pizza, Chips, and Dip
Saturday
Breakfast: O.Y.O
Lunch: Parents: Out, Kids: Leftovers
Snack: Parents: Out
Dinner: Tacos
Sunday
Breakfast: Pancakes (courtesy of hubby)
Lunch: Leftovers or Sandwiches
Snack: Freezer Cooking
Dinner: Grill
---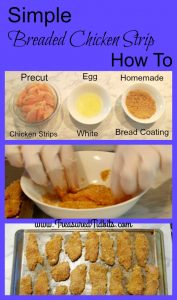 Homemade Chicken Strips
A few of you have asked about how we make our homemade chicken strips.  Especially with our food intolerances and additive issues.
We usually pre-slice our chicken into strips when we purchase it in bulk during a sale, then freeze it in meal size bags.
We make the breading in advance from leftover bread slices, following the instructions found here.
On the day of we thaw our chicken in the morning, grab our breading mix (we store it in an ice cream bucket), separate some eggs and start breading.
For those of us with intolerances we have a small container of breadcrumbs only.  No garlic, Parmesan or other seasoning added.
In less than 10 minutes of prep we have dinner ready to go.
IF I am feeling really motivated we will make homemade fries and coat them with oil, garlic and parmesan as well.
It all goes perfectly with a salad.
---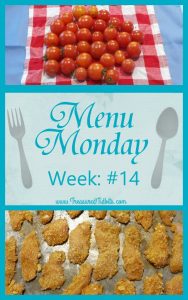 For great recipes and money saving ideas follow us on Pinterest, Instagram, Facebook and sign up for weekly emails.
Save
Save
Save
Save
Save
Save
Save
Save