Ever wonder what to do with that leftover bread?
The heels that your kids won't eat, or that loaf that is starting to dry out?
Today we want to offer you some useful, tasty suggestions.
Around here we hate to waste things.
We try really hard to reduce, reuse and recycle.
We used to feed the leftover bread to the birds or take it to the park, but when I discovered a chicken recipe my family loves, I had a brainstorm.
(Yes, I do occasionally have those about food.)
In this post, Uses for Leftover Bread, we will demonstrate how to turn that unwanted bread into quick and easy additions to your meals.
Tip:  You can accumulate the bread by slowly adding the odd pieces to one bread bag until you have enough to fill a baking tray.
(The above photo was used to create both the croutons and bread crumbs you will see in this post.)
To begin- gather all of your leftover end pieces and dry bread.  This includes hot dog buns, hamburger buns and even bakery bread.
Two Simple Uses For Leftover Bread
First, we will turn it into "breadcrumbs."  They can be used in the following: meatloaf,  dressing, meatballs, topping for side dishes, and our favorite coating for chicken, other meat and potatoes and any other recipe that calls for dried bread or crushed croutons.
Supplies you will need:
Bowl large enough to hold the crumbs
Mixing spoon
Sprayed non-stick baking tray
Desired seasonings (We like Parmesan, garlic and butter.)
Clearly labelled and dated plastic baggie or sealed container.
Tip:  We store ours in an ice cream container now that we have accumulated a larger supply.

I try to label my containers or packages first- while my counter is still clean.

1.)  Preheat oven to 250-350 degrees.
Crumble bread into tiny pieces in a bowl
(If you are unable to get them small, don't worry, you can crumble them more after they are dry.)
2.)  Add seasonings if desired based on what you will use the crumbs for.  Toss with a spoon.  (Add melted butter last.)
Tip:  If I am adding them to meatloaf or meatballs I add the seasonings and then continue to mix them with the meat and other ingredients, then freeze for later or use fresh.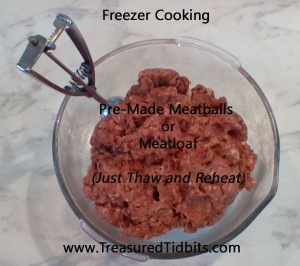 If I am not sure what I will use them for, I simply add no seasoning but I label the package accordingly.
3.)  Spread breadcrumbs on baking tray.  Bake for 5 minutes, stir, continue to bake until desired consistency.  We like ours lightly browned.
4.)  Remove, allow to cool, store in airtight container.
I love the convenience of having the crumbing topping ready to go.
---
CROUTONS:
Supplies needed:
Knife
Cutting Board
Labelled plastic baggie or container
Bread
Bowl & Mixing Spoon
Desired seasonings (Our family prefers parmesan, garlic and butter.)
Sprayed Non-Stick Baking tray
 Step 1.)  Preheat oven to 300 degrees.  Place two pieces of bread on cutting board and cut into squares.  (We keep these bite size for salads.)  Continue until all bread is cut, adding to bowl as completed to keep cutting board clear.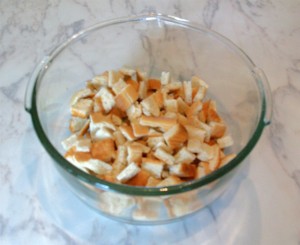 Step 2. )  Mix desired seasonings.  Tossing as you go and making certain to add melted butter last.
Step 3.)  Spread evenly cookie sheet.  Cook for 7 minutes, then turn and cook for 7 more.  (Times may vary based on thickness of bread and your oven.)
Step 4.)  Remove.  Let cool.  Add to properly labeled container.
You now have croutons to add to all your salads at a fraction of the store cost and without all the preservatives.
---
 As always, we are happy to hear from you!  If you are a blogger please be encouraged to link your favorite recipe, food tips or money stretching ideas in one of our weekly Sharing Saturday Link Ups.
Want to see more great money saving and food stretching ideas???  Follow us on Pinterest, Facebook and Instagram.  Then sign up to receive our weekly emails as well.

Please remember to share us on your favorite social media!
Happy Cooking!

Save
Save