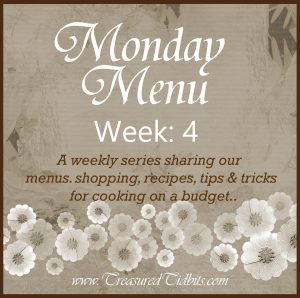 Welcome to this week's Menu Monday where I share our menu, shopping trips, recipes and hopefully even a few tips and tricks.
This will be a bit different in menu planning and cooking for us.  Due to the loss of my children's paternal grandmother we will be attending a visitation Monday evening and funeral most of Tuesday.  These night's I am not cooking and hubby will need to fend for himself.  (Both services are road trip for us).
As many of you are already aware we often fix more than one main dish and "varying versions" of each side as we prepare each meal due to food intolerances.  This week it may become even more challenging as one daughter has developed an throat swelling reaction to table pepper so we are going to have some trial and error here.
Menu
Sunday:  Hamburgers and chicken on the grill (enough for leftovers this week), lettuce, buns, deviled eggs, corn on the cob, fruit and ice cream for dessert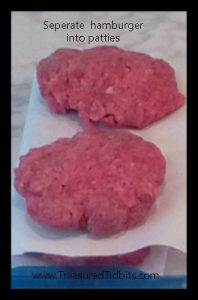 Tip: Pre-shape patties and freeze in meal size portions when hamburger is purchased.  Toss a few singles in as well for when unexpected guests arrive.
Monday:  Hubby is eating leftovers from grilling last night and anything else he can spice up to his heart's content while we are gone.
Tuesday:  Hubby can fend for himself again.  The girls will have a family dinner with their family and I will grab my usual on the road boiled egg, cheeses and cherry tomatoes with chips.  Yep, this is a meal I enjoy and can eat as I transport them from location to location.   
Why do I eat this combination?

Years before I discovered we had health issues I found that we all felt better if I packed cheese cubes, cherry tomoatoes, grapes and chips.  After we have learned more about our health issues I came to realize it was because the fruit helped us stay hydrated, the cheese provided protein and dairy and of course the chips helped bring my blood pressure up.  It was all convenient because it fit in a small cooler and we could have a snack every 30 minutes or so for those with small stomachs.
Wednesday:  Breaded chicken, homemade fries, green beans   You can find the homemade bread coating recipe here.
Thursday:  Steak, gravy, baked potatoes, rolls, chocolate cake, corn, salad
Friday:  Tacos
Saturday:  Visiting family
---
This Week's Kroger Shopping Trip

Milk $1.89
Minute Maid OJ Regular $2.99 Sale Price 2/$4.00
2 Pk Gel $2.19
Corn on the Cob 6/$2.00
Red Apples 3.67 lbs @$1.99/lb  $7.30 total cost
Buy 3 Save 3
Pepsi & Dr. Pepper Regular $4.99/6 pack  Final Price $1.99
Gatorade Regular $5.99  Final Price $4.99
Clearance
Kraft Paper $1.59
Salsa $.49
Bath $.99
Flan $.25
Crème Brulee $.25
Diced Plums $.99
Super Chocolatey Bakery Cookies $.99
Bakery Sweet Bread $.99
Sparkling Cranberry Juice and Apple Juice  $.75 each
Total with tax: $46.91
---
 For a peek at what we have for snacks, breakfast and lunch check out our Monday Menu post.