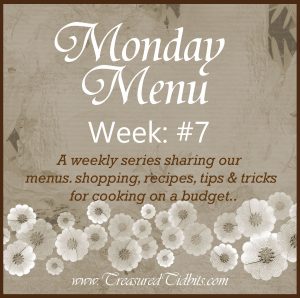 This week's menu has things changed up a bit and features a link to our main shopping trips as well as some of the recipes we use on a regular basis.
Monday
Breakfast:  O.Y.O.  (On your own)
Lunch:  Taco Bell, Packed snacks
Snack:  None

Supper:  Red Lobster  (We used gift cards we were given for Christmas and traded the items we couldn't eat.)
Tuesday
Breakfast:  O.Y.O.  (I had left for physical therapy at 8:00 and waited until then to wake the girls).
Lunch:  Leftover Red Lobster

Snack:  Carrots & Graham Crackers

Supper:  Bacon, Eggs, Toast or English Muffins with butter & cream cheese, fresh strawberries, jelly or preserves with orange juice and milk to top it off.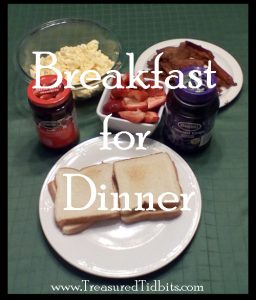 Wednesday
Breakfast:  French Toast, Milk, Apples

Lunch:  Ham and Cheese sandwiches with lettuce and tomato, mac & cheese, fresh watermelon, milk
Snack:  Ocean drinks with ocean graham crackers  

To see how these turn out follow us on Instagram @ treasuredtidbits
Supper:  Breaded Chicken Strips  (We make these from scratch with leftover bread pieces.  The directions can be found here.)  Baked Potatoes, Green Beans, Pull Apart Garlic Buns, Milk
Thursday
Breakfast:  Cereal or Oats, Fruit, Milk  
Lunch:  Chicken Nuggets, Party Fries (we will empty the different bags we have in the freezer in a variety of shapes and sizes)  Watermelon, Cottage Cheese, Milk

Snack:  Apple/Grape Turtle with Milk

Supper:  Hamburgers with Lettuce and Tomato, Fried Potatoes, Corn on the Cob, Watermelon
Friday
Breakfast:  Bacon, Eggs, Toast, Milk, or Juice

Lunch:  Grilled ham & cheese sandwiches, cottage cheese, tomato soup, choice of fruit
Snack:  Crabby Apples

Supper:  Ham & Tater Tot Casserole

Saturday
Breakfast:  O.Y.O.

Lunch:  Out  (I will pack something for me)
Snack:  N/A

Supper:  N/A   At family party (hoping they are feeding us)
Sunday
Breakfast:  Pancakes for hubby  (Remember it is Father's Day)

Lunch:  Leftovers

Snack:  Fruit & Ice Cream

Supper:  Steak & Chicken on the Grill with Onions & Peppers, Deviled Eggs, Corn on the Cob
---
---
What is on your menu this week?
To learn more on how and why I menu plan read here.
For a peek at this week's shopping trip click here.