14 Fun, Simple Ways to Organize Your Kitchen Utensils Today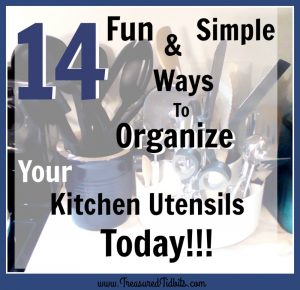 Everyone has kitchen utensils, probably oodles & oodles of kitchen utensils.  Utensils you can't live without, utensils you have never used, utensils you don't know how to use and even utensils you don't know where they came from.  Yep, everyone has utensils.
At our house we have two drawers, a Pampered Chef Tool Caddy & Crock and even two small lidded containers on our lazy Susan with "utensils."  I LOVE my utensils and yes, you will notice than 80% of them are from Pampered Chef.  I used to sell it and I find it very helpful in aiding me in cooking and prepping with my EDS.  This is where I confess that I actually purged my collection of kitchen utensils less than a year ago, and I still have ALL of these left plus the two overflow containers on the lazy Susan.  I even revisited the sorting method for this series and I still kept them ALL.  I WANT them all.  I USE them all.  That means, I need to organize them all.
What about you ?  How many do you have?  Are they stored in a pretty, practical way that works for you?
If so, fantastic.  If not, we have put together this great list as well as a Pinterest Board full of AWESOME photos, ideas and links.
Click the photos or blue words below to take you to the original sites, more great ideas and DIY tutorials.  We tried to inspire you by sharing items you could find within your home or create in a day.  For more in depth projects or items to purchase, be sure to follow our Kitchen Utensil Organization Board here. Read more »