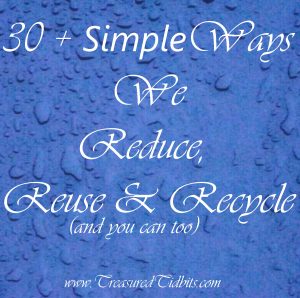 Reduce, Reuse & Recycle, these are words every home should use whenever possible for a multitude of reasons, including helping the environment and saving money.
I come from a long line of frugal women.
Long before "Going Green" was "in", my family was reducing, reusing and recycling.
We didn't do it out of a concern for the environment as much as a necessity.
I can remember my great grandmother catching rain water because she lived on a well and the rain water, (25 years ago), left your hair softer.  When we ran hot water we captured whatever cold water came out first and used it to water the plants, add it to the washer or rinse out the sink, etc…  (My grandmother still does.)  We didn't say, "Recycle the water", we just knew to DO it.

I have to confess my household does not do that now and I think my husband might look at me as though I have two heads if I tried, but we do have several things our house does that would be considered in the Reduce, Reuse, Recycle venue.
These are by NO means the only steps that can be taken, but these are the ones our household uses most often.
Recycle
Aluminum Cans– We save these (when we get them) and recycle them for cash which we add to our donation to Change For EDS
Water Bottles- (We allow these to dry in our drain or bottle rack, remove the label and recycle them in our local recycling bins.)
Plastic Bottle Caps of ANY kind, including detergent, bathroom supplies, milk jugs, water bottles, etc…  (Our school and community collects these and they are recycled into benches.)
Plastic Bottles- (Our community recycle dumpster only accepts type 1 & 2.)  The other numbers I try to find uses for around the house; such as replanting, starting seedlings, mixing paint, storing small items or refreezing food or small amounts of cookie dough.  If we cannot reuse them we recycle them.  See the links below for details and inspiration on ways to reuse different types of plastics.

Newspaper- We take the inserts to the recycle bin and use the black and white pages for crafting, packing or share them with a friend who uses them to pack her fragile art work when she attends art shows.  Any pages not worth repurposing we send to recycling.
Magazines– In our family we pass them around, donate them to the local community store, or if damaged, take them to the local recycle center
Cardboard- We shop at a box store and I tend to forget my bags.  We reuse these for shipping our crafts, holding items for other peoples homes, or toss them in our recycling bin.  We use the sturdier styles for storage and organization.  Add a little paper or paint and you have an easy, free, cut to size organizer.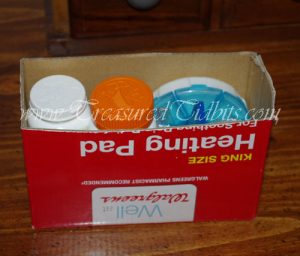 Egg Cartons– Once they are empty we return them to the local farmer we buy eggs from, who in turn recycles them by reusing them the following week.
Cereal Boxes– My mother's church collects these and then packs supplies for a foreign country in them; after they arrive at their destination a native mother turns them into beautiful bracelets that she in turn sells to feed her family.
Paper– We shred important documents and send to recycling.  Blank spaces are used for quick notes and then recycled.
Electronics including broken TV's, VCR's, tape players, etc…  Every few months our town offers electronic recycling.  They set aside 4 hours or so and will allow you to bring your unwanted electronics uptown where they will be packed up, shipped to another destination and either recycled or up-cycled.
Computers and Computer Parts– GOODWILL excepts these and benefits from the donation.  Go here http://www.goodwillsp.org/donate/computers to find a drop site near you.
Unused or Expired Medication– Once again our city offers a medication drop-off site once a month or so, with no questions asked.  You can dispose of any medications but NO needles.
Update:  Our hospital now offers a secured expired medicine recycle drop box inside of the ER department, and I have begun to notice a trend with many others as well.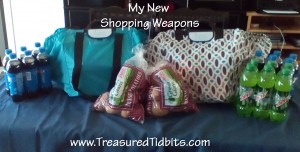 Compostable Items- At our house this includes tea bags, coffee grinds, leaves, grass, egg shells, lettuce, uneaten fruit and veggies, dead weeds and clippings, etc…  We turn this weekly and have already added some to our garden.  I hope this will help my garden grow strong.  We gather them in a small lidded container and carry them out a few times a day.
Clothing– We take our items to consignment or donate them to our local community store as long they are in wearable condition.  For those that aren't, we use them for cleaning, staining and various other household tasks.  This article offers some additional ideas for those on a mission to reduce, reuse and recycle.
REUSE
Glass Jars– Including pasta, baby food, spice, etc…  We use these to store our used grease in before we throw it away.  OR for craft projects, creating lights, making homemade soaps, storing small items or food.  Here are some ways we have used glass jars this year: http://treasuredtidbits.com/?p=345,  http://treasuredtidbits.com/?p=424.
Pringles Cans and Paper Towel Holders– Make great moroccas (just add rice, beans or beads), banks, bowling pins, organizers, VBS projects, and hair tie organizers.  See here.
Ice Cream Buckets– We use these for cleaning buckets, transplanting plants, hauling rocks and dirt, and DIFFERENT ones for storing baked cookies or desserts for the holidays in the freezer.
Holey or Stained Clothes or Socks– IF they cannot be cleaned, repaired, patched or cut down to shorts or PJ's we cut these into rags and use them to clean up messes (painting, stomach flu, litter box, etc…) that should just have the rag thrown in the garbage.  Click here for a great list of uses.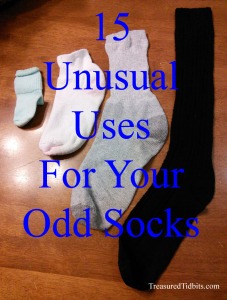 Leftover Lumber– We use these for ALL kinds of craft ideas.
Dryer Lint and Yarn– No, I don't reuse it in my dryer.  It can be placed outside for the birds to add to their nests.

Hot Chocolate, Oatmeal, Ovaltine Containers.  Perfect for storage.  See here.
Reduce
Reduce the amount of leftovers OR use them up.  Some common practices at our house are as follows.
Leftover pasta sauce gets re-jarred and used for leftover pasta or "Pizza Bread".  Pizza Bread consists of a slice of bread, bun, etc…, sauce, leftover cheese, hamburger or pepperoni and other loose toppings.  My kids love these and can heat them in the toaster oven in minutes.
Left over heels, old bread and crusts become coating or meat loaf filling.  See here for recipes.
Leftover broth from chicken or beef roast becomes soup or noodle broth.  We pour this into an ice cream bucket in the freezer and add to it as we have small amounts of leftovers.  When it is full or we get the urge we make soup.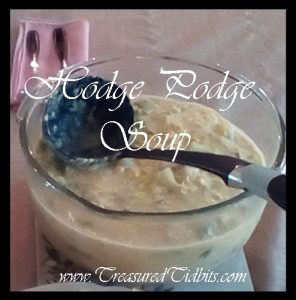 Leftover veggies are added to the freezer ice cream bucket to make a nice, warm soup.
Unused bottled water is poured into our cats' bowl.
Use cloth napkins.  Now I must confess we still use paper napkins for some things and because cloth napkins are not in hubby's nature.  But we are in the process of training ourselves to use cloth for everything.  I found some great deals on the first round I purchased here.
Shop secondhand– Discover what great items we have found in our Thrifty Thursday posts.
For more great recycling ideas go to Recyclebank,where you can find great reduce, reuse, and recycle ideas and can earn points for free or discounted items while you protect the environment.

---
Please like, share, tweet and pin this post and add any comments or suggestions you might have.
How do you reduce, reuse & recycle?
Check out these great upcycling ideas.
20 Fun & Useful Ways to Upcycle Plastic Lids
9 Simple Ways To Upcycle Tissue Paper
5 Hair Organization Ideas From Upcycled Items
Dish Yard Art From those odds ends in your cabinet
Check out other great ideas at the following link-ups.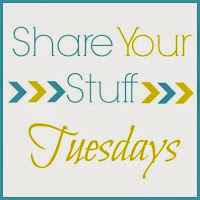 Save