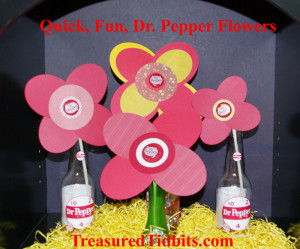 These were a blast and so easy to make.
My daughter's and I actually tried another project that didn't quite work out as planned to say the least (check out FB page for pics).
So I went digging in my hoarder's stash collection and saw the Dr. Pepper caps I had kept for unknown reasons.
I wanted to make something quick, easy and fun for spring and these seemed perfect.
We used mostly pre-cut ovals and circles from my scrapbook supply.
I set out additional papers and let my youngest begin designing.
These beauties were the result.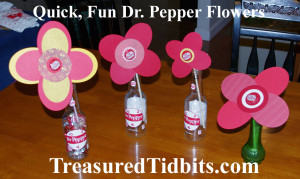 I love 'em!
SUPPLIES NEEDED:
Cardstock or construction paper
Precut ovals & circles or the supplies to cut ovals & circles
I used my Creative Memories cutting mat, blades and circle/oval cutters
Dr. Pepper caps (or buttons, old earrings, etc…)
Straws (for stems)
Dr. Pepper bottles
Vases
Glue
Hot Glue Gun for Straws and Caps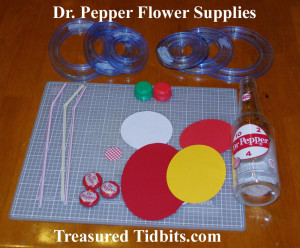 INSTRUCTIONS:
These instructions are very, very simple and easy.
Begin by layering various colors and shapes.
Find the design you like and glue in place.
Hot glue Dr. Pepper cap in center
Add straw for stem.
Insert in Dr. Pepper bottle
AND
Instant Bouquet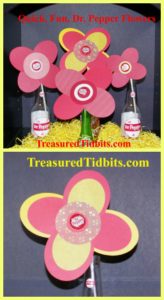 What did you think of this last minute fun creation?
If you enjoyed this post and would like to sign up for further fun ideas please "Like" our page on the right side of the post, and/or sign up for email, RSS feed, twitter or follow us on Pinterest, Facebook and Instagram.
#Dr.Pepper #DrPepperFlowers
This post is linked to the following great linkups!
Head over and find more ideas than you can imagine.