Decorating on a Dime
(Thrifty Thursday #2)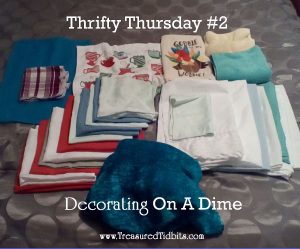 Last week I shared my daughter's finds at our local Goodwill here on our first Thrifty Thursday Post- "Gorgeous on a Goodwill Budget".
This week I want to share the great finds I found.
While she was winding her way through the rows and rows of clothing available I was carefully perusing the linen department, hanger by hanger, looking for specific items and colors.  Of course, I found a few surprises too.  Like the adorable gobble, gobble towel and fun hot chocolate towel as well as the cozy blue item that will be used in at least two projects in my house later.
Because we recently made the decision to reduce the amount of paper we use in our home I have been collecting cloth napkins when I find a color, texture and size I like.  (Being as picky as I am this could take awhile.)
I stumbled on several during this trip that I rejected and several more that I chose to keep.
I also decided to encourage hand towel use by switching them out each morning and evening.  (Yes, germa phobe here.)
Then I stumbled on some pillowcases that were in EXTREMELY great condition and made of expensive material.  At only $.99 each I bought them ALL.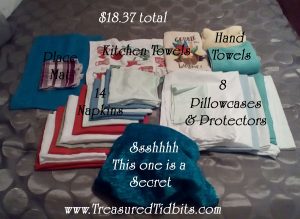 In total on this trip I purchased:
6 Pillow Cases @ $.99 each
1 Hand Towel @ $.99
4 Dish cloths @$.59 each
(These should have been charged as hand towels)
11 Napkins @ $.59 each
And one big surprise @ $.99
I also bought the teal placemat on the left but it was charged as the hand towel  (I think)
For a total (with tax) of $18.37
How can you beat that?
---
A few things people have asked me about shopping at Goodwill or any secondhand shop and my responses.
Doesn't it take a lot longer to find things?
Yes, but it costs me about 1/2 to 1/4 of the usual price AND I find things I would never think of buying in another store AND since I don't have a job I have a little more time to spend looking.
Don't you mind buying used?
No, I have a washer, dryer, sink and soap.
Aren't most of the items stained or damaged?
Some are yes, but if you take your time and are selective about what you purchase you can find some excellent deals.
---
Do you have a favorite secondhand store or find?
Please feel free to share it below.
Do you like to see what others find and what great deals you might stumble across as well?
Then follow Treasured Tidbits on Pinterest, Facebook or Twitter and sign up to receive our email updates.
---
I hope you have a Thrifty Thursday and will check back in tomorrow to see how we Earned Over $600+ as a family last month in addition to hubby's regular check (by the way, none of that was from blogging).