Gorgeous on a Goodwill Budget
This week's fantastic thrift store buys.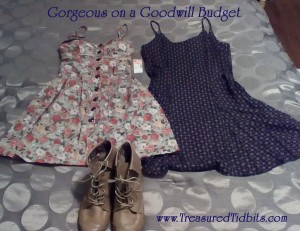 Yes, we shop at thrift stores and rummage sales.
Does this mean we look like we are poor and only wear hand me downs?
Nope!  We actually have people stop my girls and ask them where they got their outfit from.
It gives me great pleasure and my girls just beam when they can say "A resale shop called "XYZ" in Somewhere, Illinois" and I only paid $2.00 for it.
Do they mumble it in shame or turn red from embarrassment?  No, they brag about it.  Not in an "I am better than you are way" but in a "I am glad you noticed and I can share my secrets with you way."
Since so many of you have asked about our shopping trips, makeovers and decor I have decided to make it a weekly post.  Please don't think we shop weekly because we don't but we do visit multiple shops when we travel to the city.  I hope to share our fabulous finds with you in our Thrifty Thursday series so you can discover that second hand is the way to go for anyone on a budget AND you can do it without sacrificing quality, fashion or pride.
Enough about why.  Let's get to the purchases.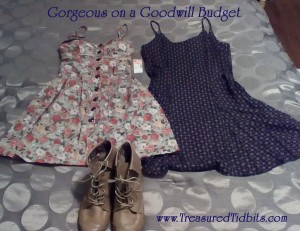 My daughter bought everything you see here (including the flowered dress with the original Deb's tag)  for under $20.00
Where else can you do that?
The dresses were $5.99 each and the shoes/boots only $3.99.
The best part is she was even able to try them on IN STORE to make sure they fit.
Now we need to find a white shrug so she can wear them in public.
Now I must say that in recent months Goodwill has raised their prices, considerably, and by doing so changed the way we shop there.  But we can still find good buys.  We are simply more selective about what we put in our cart and what we return to the shelf.  We are especially happy when we stumble upon items tagged with the "Color of the Day".  These items are always half price.
Check in next week to hear what fantastic household deals I found on the same trip.
Do you shop consignment?
Please share your tips and tricks in our comment section.
If you are a blogger and have shared your finds on your blog PLEASE feel free to share your link in the comments as well.
---
Like what you see?
Want to read more?
"Like" us on Facebook and Follow Us on Pinterest and Twitter.
Sign up for Emails so you wont miss a single post.
---