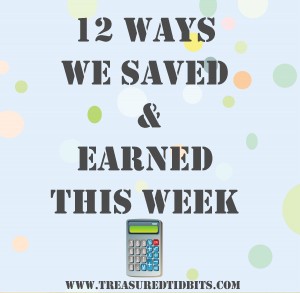 This week's "How We Saved and Earned" list may not seem very large compared to previous posts, but we are still implementing many of the things we shared before, such as draft dodgers, "Just Make DO Challenge", aprons, leftovers, back to back baking, etc…   For a look back at those posts click here.
I also need to mention that we experienced a huge setback to our current emergency fund with the breakdown and repair of our furnace.  A story I share here.
12 Ways We Saved and Earned This Week
Ways We Saved
We made a point to log in each day and take advantage of the week long "Free Friday Downloads" from Kroger.  Below are the items we received.  They might not be items I would purchase, but for FREE, my hubby and daughters will enjoy them.  For more on how to get the most for your money at Kroger click here.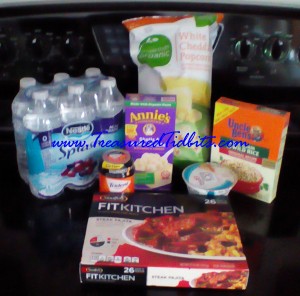 We went shopping at our hometown consignment store, and I made my girls pay for their own purchases.  The clothing they wanted did not qualify as needs.
We used our email coupon for a Buy One Get One Blizzard from Dairy Queen that we received through their email fan club.  Yes, we would have saved a few dollars by NOT using it, but you need to treat yourself every once in a while so you don't crave too many things.
Used items we already had, in our pantry, to feed guests at our fun Clever Container Party.
Re-purposed some of our organizational supplies to reorganize and straighten our shoes, scarves and closet spaces.
Had hubby toss a roast in the crock pot so we were not tempted to eat out on our way home from visiting family on Thursday- even though we arrived home quite late.

---
Ways We Earned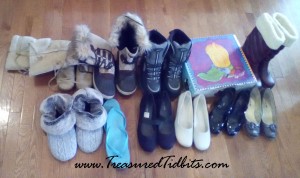 Side note:  I have to admit, my desire to save this week was seriously put to the test when I went shopping with my mom and kids for several hours at Walmart, BUT I stayed strong.  Knowing what our goal is and seeing it in black and white on our spreadsheets, helped me stay on track and say NO.  NO to the clearance jewelry, food and clothing.  No to the 60 cents a pound turkeys.  No to the multiple pairs of PJ's my daughter wanted.  I did suggest she could purchase her own. 
As a matter of fact, I have said no enough that my daughter has decided it is my new favorite word, BUT she understands why.
---
How did you save this week?
For additional savings tips (including several we used this week) check out the other posts in the Ways We Saved This Week series.
Thanks for stopping by, we certainly hope we were able to offer you some useful ideas.
If you are a fellow blogger and offer any great posts on how you have saved and earned on your blog, feel free to share your link below and in our current Sharing Saturday link-up.
This post may include affiliate links please read our full disclosure policy here.
For more great ideas follow us on Pinterest, Facebook, Instagram and sign up for weekly emails to receive exclusive FREE printables, upcoming deals and bonus info and links.
This post is linked up at a variety of link ups.
For an extensive list of the link ups we enjoy and link to click here.
Save
Save
Save
Save
Save
Save