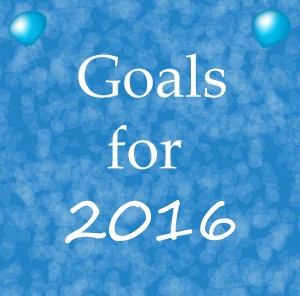 Normally I am not one to set "goals" for the up coming year.  No "New Year Resolutions" for me.  I am simple.  I am boring, and most days I am just happy to putter along.  I make lists.  I make plans, but with life the way it is I don't usually set goals and definitely don't make resolutions.
THIS YEAR IS DIFFERENT!
THIS YEAR I am setting multiple goals; some will be hard and others will be easy.
I have decided it would be wise t0 share my goals for 2016 with everyone, ask them to motivate me and help me stay accountable.  (Yep, there is that word again.  You will see it a lot at Treasured Tidbits in 2016.)
I will be sharing updates on our goal progress, as well as sharing tips and pointers on how we are accomplishing some of them.  Such as saving $5,000-$10,000 while paying for two newly installed wood floors, paying off multiple medical bills, controlling the chaos we call paperwork and a house, and getting a handle on our health.
I hope that our ups and downs, tips, tricks, and mistakes may inspire you as well.
---
Goals for 2016

Financial Goals

Save at least $5,000 for our emergency fund while aiming for $10,000 as the ultimate goal for 2016.
Creating and keeping to our check by check budget.
Reduce our purchases of non-necessity items to nearly nothing.
Create and use a menu plan that is both reasonable and healthy- avoiding waste and saving money.
Pay off our van.
Pay off the three mammograms, ultrasound, two xrays and biopsy from the end of this year and any additional bills that may pop up while saving for our emergency fund.
Pay CASH for two installed solid wood floors in our upstairs bedrooms.  (This is not cheap in the least because I want to match the existing upstairs flooring.)

Household Goals

Rock and repair the end of our driveway (we have planned this for 3 years).
Repair our outdoor sidewalk (again, planned for 3 years).
Add a hand rail to our front porch (...on the list for the past 3 years.  Are you seeing a theme here?)
Get a handle on controlling the "chaos"- as I have been referring to it in our home.  This is clutter, unfinished projects, items to give to others, list on ebay, etc…
Hang & fill the picture frames I have had for two years.
Start and finish moving my daughter into her "own space" downstairs.
Paint the office.
Finish "redoing" the girl's bathroom.

Organizing/Decluttering Goals

Lead the way in "

Just Make Do January & July

"  -This will be a month of eating from the pantry, fridge and freezer while only buying milk, eggs, bread and other pertinent perishables as needed.  This will allow us to purge the cabinets and take an honest look at what we have, saving us time and money.  It is a great way to kick start our savings in 2016.
Share my daily decluttering/organizing progress in the "Controlling the Chaos" series.
Create an "incoming papers system" that works for us and looks nice.
Label and keep an accurate list of freezer, fridge and cabinet items.
Organize and keep the kitchen organized.
Create and keep medical binders for the 3 of us.
Purge OLD files.
Get a handle on social media, emails, digital files and digital photos, purging and organizing as I go.
Organize ALL our printed photos and giveaway any and all duplicates.
Organize our house from top to bottom (and keep it that way- not just move it from one room to another,  lol).

Health Goals

Give up Pepsi.  Yep folks, you read that correctly.  I am giving up Pepsi.  What better way to save $10 a week and improve my health?

For those of you who are still laughing.  Just remember I gave it up every time I was pregnant, I can give it up now. Yes, that means I will be drinking only water with a rare glass of milk or OJ, but I will be healthier, right?

Complete our medical binders.

Prepare and drink a fruit smoothie daily (with the girls).

Serve 3 square/pre-planned meals a day.  Incorporate food for everyone (if you understood our food intolerances you would know why this is a challenge).

Eat together at the table for every meal, every day.

Keep health journals and look for triggers for everyone.

Everyone in bed at a specific time and up at a specific time.

Remove preservatives and eat more fresh items that I have prepared.

Do more freezer cooking for quick meals on rough days.

Personal/Family

Create/update and use our weekly checklist.
Create/update and use our daily checklist and schedule (my kids HATE strongly dislike this one).
Create/Update and use our monthly checklist.
Litter train Miss Kitty.
Reduce, reuse and recycle as much as possible.
Spend an hour a day playing a game or doing a project with my girls.  (This may not seem like much, but since we are together everyday, all day, non stop, it is plenty "focused" time.)

BLOG GOALS

Post daily in our "Controlling the Chaos" and "Saving in 2016" series.
Post daily in our "Just Make Do January and July" series.
Post one new crafty or organizing project weekly.
Post one home decor feature weekly.
Post one Sharing Sunday weekly.
Offer a link up for other bloggers to share their posts with ALL of you right here at Treasured Tidbits.
Develop a Facebook following of 500 or more followers by the end of 2016.
Develop a subscriber's list of readers of 100 by the end of 2016.
Spend more time on my chronic illness blog at The Zippy Zebra.
Set aside one afternoon a week to paint items for my "online" craft business.

By the way, I craft and blog for fun.  Any residual income is used to fund the fees and supplies I need before you look at my goals and think they are very motivating.   My family, home and health come first so the blogs and crafts slip to the end.

To see more posts like this follow us on Facebook, Instagram, Pinterest and sign up to receive weekly emails- where we share upcoming deals, printables and more.