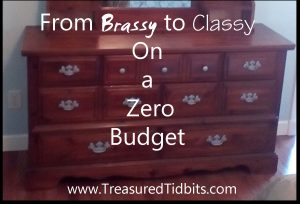 Today I want to share a project that had a huge impact in our master bedroom and cost only a tiny bit of time and money.
In the post last month I shared 7 Ways to Brighten ANY room on a Budget.  This post shares an additional way liven things up for little to no cost.
A decade or so ago we were blessed with a wonderful bedroom set.  It included the dresser, chest of drawers, nightstand and headboard with a beautiful shelved mirror.  It still works, mostly suits our needs and is already paid for.  The best kind, right?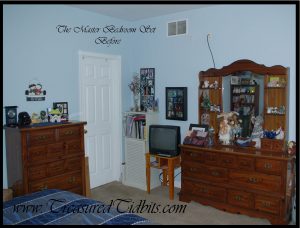 Still has another 50 years left in it, right?
As many of you know we have been working hard this year to meet our saving goals so our motto has been to "Just Make DO".  On the other hand, while we were replacing our bedroom floors I wanted to be sure we only returned items that brought us joy or were necessary to our master bedroom.
While my furniture doesn't necessarily bring me joy the idea of spending money to replace it brings me even less joy.  So I decided to find a way to help it "bring me joy" without emptying my bank account or bringing tears to my checkbook.  I can honestly say this change (among others) has made my room feel much more peaceful.
How did that happen?
With a little time, determination and imagination.
Last year I decided I wanted to "update" our bedroom on a budget and I began looking around at what I could change without spending too much money.  I saw this large furniture taking up so much space and knew I didn't have the strength, finances, time or energy to take on a huge sanding, painting or sealing project so I looked at it with different eyes and thought "How can I change it up?"
Then it hit me
CHANGE THE HANDLES!!!
The part I really, really didn't care for besides the scuffs and scratches were the handles.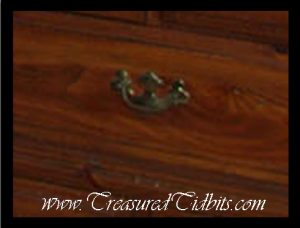 See what I mean?
  Dark, dreary and damaged.
Now I refused to give into the temptation to go all out and simply buy new handles like these because I didn't want to spend $50-$100.  I mean, we have a combination of 32 different handles so it could get really expensive.
First, I tried to just shine them and clean them, you know, "spruce" 'em up a bit……  Nope, they were still the same dirty, brassy color I had come to despise having in my bedroom.  So, I looked around again and saw the trash can I had spray painted dark blue to match the master when we first moved here.  And…..
INSPIRATION STRUCK!!!
Spray paint!!!!
I have LOTS and LOTS and LOTS of spray paint.
I had recently purchased several cans of spray paint on clearance and there HAD to be a color I could use.
I dug through my hoard collection and found this gorgeous"Hammered Metal" from Rustoleum.  It was just a little shiny, not too dull and not too bright.  It looked PERFECT and even better it was FREE because I already had it.
The process was quick, easy and not at all expensive.
I will admit that I only did 2 to begin with because I wasn't sure how it would work and if I would like it.
After we reattached them our furniture looked as though it had received a breath of fresh air (before we had managed to repair all the dings, scuffs and scratches it suffered).
It matches the bulletin I created last year and ties in well with the wicker hamper I spray painted to match.
To be honest I wasn't sure how the project would turn out but we have found the results to be a fresh, crisp, calming, tied together look.
What do you think?
I must admit we did polish and clean the furniture while the handles were off but we did not repair the scuffs and scratches as I was not brave enough to address that until this year.
I love the difference this had made.  What do you think?  Remember the after photos were taken 16 months later.
You can find the how-to here.
---
Would you like to see other frugal home decor ideas we have?
Follow us on Facebook, Pinterest or Twitter.  Or sign up to receive weekly emails.
---
This post is linked up at
Be Inspired Link Party @ The Girl Creative
Happiness is Homemade @ Ducks In A Row
Saturday Sparks Linky Party @ Pieced Pastimes
Reasons @ Reasons To Skip The Housework
Nifty Thrifty Sunday @ Nifty Thrifty Things
A Bouquet Of Talent Linky Party @ Life on Lakeshore Drive
Share IT Linky Party @ Colors & Crafts
Creative Fluster @ Fluster Buster
Too Cute Tuesdays@Funky Polka Dot Giraffe
Titus 2 Tuesdays @Cornerstone Confessions