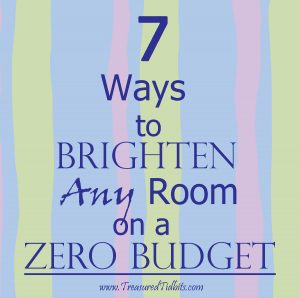 As many of you know I set very lofty goals of saving $5,000-$10,000 this year.
I also wanted to upgrade, brighten and organize the two main bedrooms while we had them emptied to replace the carpets with solid oak wood floors.
During that process I found several ways I could change our rooms or "brighten" them without spending a dime.
I just needed a little imagination, willingness for change and a lot of elbow grease, cleaner, rags and water.
Most of these may seem like simple changes but the difference they can make is AMAZING.
7 Ways To Brighten a Room on a Zero Budget

Clean your windows and screens (inside & out)  I could.not.believe the difference this made in our master bedroom.  I did not feel the windows were all that dirty but when hubby cleaned  just the outside the results were unbelievable.

Clean the walls, switches, baseboards and floors (We have lived here 5 years and I clean the lower walls regularly.  Up high I couldn't believe how dirty the walls were.  I joked that if I didn't know better I would swear we were holding seances or burning candles every.single.night.  It.was.awful.)

Clean and shine the furniture and mirrors. 
 Make repairs and touch ups with paint or furniture repair supplies.  This made it look like new furniture.  I will be sharing the before and afters with you but not today.
Wash all fabric items and fluff.  This includes curtains, rugs, pillows, blankets, etc…

Clean and polish any photos, decor, knick knacks and flowers removing dust, dirt and built up grime.  ( I dust weekly but when I removed the "Mommy gifts" my children have made me over the years I noticed all the crevices had a layer of dirt so we gently washed each one with a bit of water and they looked 1,000x better)


Rearrange your furniture and accessories (before we began putting furniture back I asked the hubby if he wanted to try something new

and even though I didn't feel it would suit me I tried it

and I LOVE it!  Who would have thought?)  What can you move around?
Remove clutter.  Ask your self is this truly useful here?  Does it bring me joy or stress me out?  Would I enjoy it more in another location or outside my house?  (I was determined NOT to bring in all the clutter we had kept in our master before the remodel.  This is major task because my master bedroom is also used as an office, work station, storage area, pantry overflow and sick room when our chronic illnesses get the best of any of us.  But I did it and that step alone was a game changer in how much brighter the room looked).
Add a touch of color using something you already have on hand in storage or another room.  The following are great for brightening up a room with just a POP of color: Rugs, Pillows, Curtains, Frames, Flowers, Tiebacks, Family Photos or Artwork
How would

you

brighten up a room on a zero budget?
---
This post is linked up at



Linky Party Palooza @ Tater Tots and Jello
The Handmade Hangout @ Twin Dragonfly Designs
Inspiration Monday @ I Should be Mopping the Floor