When Your Savings Goals Hit a Roadblock & Leave You On Empty
Our 2016 Savings Goals Update

2016 has certainly been another year full of ups and downs, twists and turns, both in our home and businesses, but I am excited to say we survived!
For the first time ever, I decided to set some goals (not resolutions) for 2016, and I even left my comfort zone and shared them with you here.
I must confess that we fell short on many of those goals, especially our savings goals,  but I have yet to beat myself up for it because they are GOALS not requirements, not deadlines and not commitments.  Sometimes GOALS have to change or undergo some alterations due to physical, financial or emotional challenges, as Benjamin Mays says, "The tragedy of life doesn't lie in not reaching your goal.  The tragedy lies in having NO goals to reach."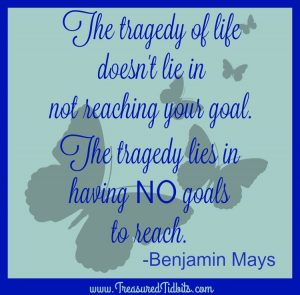 Heaven knows our goals have made some enormous U-turns in the past year.  The biggest and most obvious being the original goal of saving $5,000-$10,000 by the end of 2016.
Yeah, I must confess we aren't.even.close.
I believe our emergency fund savings sits at just under $400, not even close to our 2016 saving goals.  After making that sad confession, I must also confess I am actually content with 99% of the financial choices we made in 2017 and the final results.
No, we don't have a nice cushy savings account to fall on if something happens to hubby's job, but we aren't in debt or have an exorbitant lifestyle to maintain either, so I know we can make it if something else goes drastically wrong.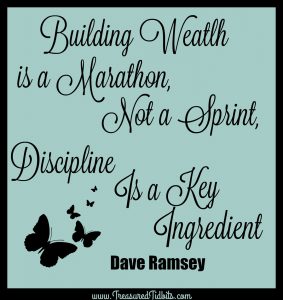 Why am I okay with our small savings account?  Why am I not disappointed in not reaching our 2016 savings goals?  Because as Dave Ramsey says, "Building wealth is a marathon and not a sprint, discipline is a key ingredient."  I know that we are financially stronger than we have EVER been.  I know that we can make do with less than we do now.  I know that I have an amazing budget set up for 2017 and it allows for ALL of those medical, vet and vehicle surprises to reoccur in 2017 without sending us over the edge.  I certainly doubt we are rich by the end of 2017, but I certainly hope we have a slightly larger savings, stay firm with zero debt and have continued to reduce our mortgage.
Do you wonder why I am not freaking out about not reaching our savings goal for 2016?
Let me share with you just a few of the roadblocks we encountered with our savings goals in 2016, and see if you can understand why I am not exactly stressing about it.
Our furnace broke in January and required immediate repair since it was the dead of winter.
I injured my back in April and required an ER visit, lots of meds, an MRI and then follow up therapy and chiropractic help.  Thankfully, we have AMAZING insurance, but I still paid close to $2,000 out of pocket for combined treatments, plus we spent a bit more on everyday bills, groceries and supplies because I was too sore to shop myself or search for coupons and deals as devotedly as I usually do.
We purchased a used Roomba for $200 and it has been a Godsend, but it was not in our original yearly investment plan, with 5 cats and a damaged back, it has been an absolute lifesaver.
Our youngest daughter lost her government sponsored insurance.  Her co-pays, emergency room visits, medications, heart halter monitor and maintenance items alone, have added another $3,000-$4,000, not including the new monthly insurance premiums.
Our prescriptions and medical supplies for the entire family totaled almost $1,000.
Every single one of our cats and dog have had one serious health issue or another that racked up another few thousand in vet bills.  I never knew animals could be so expensive; we used to only need to have yearly checkups, monthly flea treatment and heartworm meds, plus an occasional declaw and fix, but this year we have had serious injury, unknown illnesses and slew of surprise issues.
We have had over $4,000 in vehicle repairs in addition to regular maintenance and upkeep (brakes, doors, random electronic issues, etc…).  Most years we are blessed and pay less than $1,000 total for car and van maintenance together, but this year was full of surprises.
Our son returned home, adding more food, supplies, electricity, water and of course, insurance fees to our home.
We replaced the carpet in both our bedrooms with 3/4 inch solid oak floors.  A $3,000+ investment when it was said and done.
We increased our gift giving and paid cash for every, single holiday, including Christmas.
Hubs bought a new laptop and some blogging equipment.
Someone misplaced a coupon holder containing $438, and it has yet to be found.  I am not stressing this one because it was lost inside our home, and if someone stole it, they must have needed it more than we did.  I am guessing that because it is very, very, thin and I asked someone to put it away, that it simply got laid down and forgotten and we will discover it at a time when we truly need it (in a spot we have probably already looked a hundred times).
Looking back, that is close to $15,000 in unexpected/unbudgeted expenses that we were able to cover without going into debt or doing without.  $15,000 is well above what I had hoped to save in 2016.  I call that a win/win considering we are closing the year with only $850 in combined outstanding medical bills, no debt besides our home, Christmas bought and paid for, fully operating vehicles and a promising budget set for 2017.   We may not have reached our 2016 savings goals but we didn't go farther into debt either.  What do you think?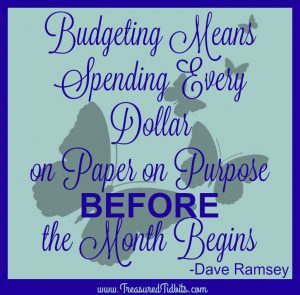 Dave Ramsey is famous for saying  "Budgeting means spending every dollar on paper, on purpose BEFORE the month begins." and he is absolutely, 100% right!!!  Because I wanted to save each month, I had already budgeted money specifically for saving, BUT when our medical bills cropped up I simply went into my pre-made Excel spreadsheet and adjusted the dollar amounts to cover the new medical payments, car repairs or surprise vet bills, and if I couldn't cover it, I knew EXACTLY what I needed to pull from the savings account to make up the difference. No more. No less.  Want to know how we budget for a year at a time paycheck by paycheck and make quick, easy adjustments as bumps and roadblocks arise?  View our budget strategy here.  Or take Dave's amazing budget course here.
Want to know how we were able to pay that additional $5,000 to $15,000 without eating beans and rice?  Read our "How We Saved and Earned" posts found here.  These posts share the ways we stretch basic income AND earn a little extra on the side by doing simple, everyday tasks that WILL enable us to reach our savings goals in 2017.
Please don't forget to pin this post for later encouragement, share it with a friend on Facebook or leave a comment below letting us know how we encouraged you today!!!
Your friend in this crazy journey they call life,

Want to learn more about our journey to simple money, a simple home and a simple life?  Sign up to receive weekly email updates plus bonus info and giveaways exclusively for our email subscribers.
To see more posts like this follow us on Facebook, Instagram, Pinterest and sign up to receive weekly emails- where we share upcoming deals, printables and more.
Save
Save
Save
Save
Save
Save
Save
Save
Save
Save
Save
Save
Save
Save
Save
Save
Save